Jacksons: Death Doc Conrad Murray 'Blatantly Lying' — He Was NOT Incontinent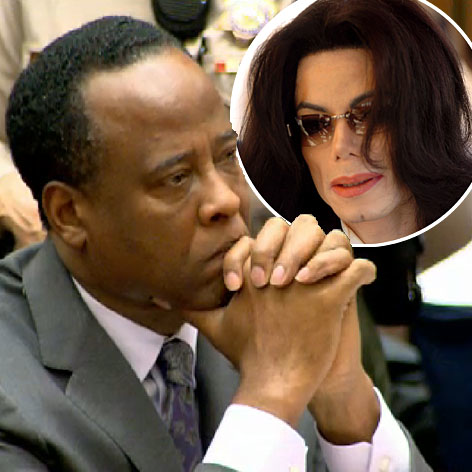 Disgraced death doc Conrad Murray's claim that Michael Jackson was incontinent is a blatant lie and serves as more evidence that the singer's ex-personal physician had questionable medical practices, the Jackson family believes.
During a recent interview, Murray protested: "You want to know how close Michael and I were? I held his penis every night. I had to put a condom catheter on him because Michael dripped urine. He had a loss of sensation and was incontinent."
Article continues below advertisement
The man — who has been dubbed delusional — added: "It was the most intimate thing but he trusted me."
They're claims that have incensed the legendary music family.
"Conrad is delusional, ok? Let's not forget that," said a source inside the family.
"Of course Michael needed a catheter as Murray was knocking him out for hours using Propofol. Had Conrad not used a catheter, Michael could have gone into kidney failure. The notion or claim Michael was incontinent is absolutely preposterous. Given that Conrad gave Michael one handed CPR, it remarkable that he recognized Michael needed a catheter because of the fluids being pumped into him while he was under."
The former cardiologist has also insisted the singer after injecting himself with a lethal dose of a surgical anesthetic — a claim that has been contradicted by evidence.
As RadarOnline.com exposed, the King of Pop's fingerprints were never found on any of the medical equipment or vials which were found at the Holmby Hills, Calif., death scene.
In his first interview after being released from prison, the defiant doctor also charged: "That night he just couldn't sleep. I prescribed him drugs to help, including valium and lorazepam an anti-anxiety treatment, but he was begging, pleading, close to tears. 'I want sleep, please Dr Conrad, I need sleep.' I told him, 'This is not normal. What I've given you would put an elephant to sleep.'
Article continues below advertisement
"In the other bedroom Michael's private chamber, the police found an open bottle of lorazepam. They found tablets in his stomach. I didn't give him those. Michael took extra tablets. And he injected himself."
But as RadarOnline.com first revealed in the middle of Murray's involuntary manslaughter trial, Jackson's fingerprints were never found on ANY Propofol or Lorazepam bottles, or intravenous tubing.
"The Los Angeles Police Department didn't find any fingerprints of Michael Jackson's on any Propofol bottles or the Lorazepam bottles. There were no partial fingerprints of Michael's or any unknown prints on the medication bottles," revealed a source close to the initial investigation.
Meanwhile, the Jacksons just want "Conrad Murray to crawl back under the rock he came from."
Said the source: "It's amazing that someone who chose not to take the stand in his own self defense at Jackson's involuntary death manslaughter trial and in Katherine Jackson's wrongful death lawsuit case against AEG, has so much to say about Michael after the fact. He is a self-serving and disgusting human being."