Exclusive
Conrad Murray Refuses To Answer Whether He Believes Michael Jackson Was A Pedophile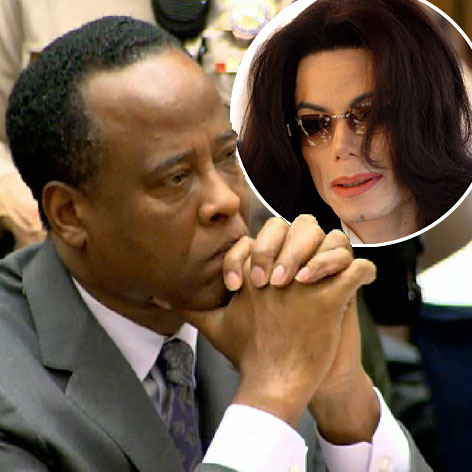 The doctor convicted of the involuntary manslaughter death of Michael Jackson has refused to answer whether he believed the King of Pop was a pedophile because, he protested, he did not want to "make up or fabricate anything."
In his first interview since being released from prison, Conrad Murray, 60, deflected the question when pressed by a reporter for 60 Minutes in Australia, but strongly hinted that he believed the legendary singer could have been guilty of many of the abuse claims which were leveled against him during his life.
Article continues below advertisement
"Do you believe he's a pedophile?" Liz Hayes, a veteran Australian journalist, probed.
"I'm not prepared to answer that question, now and I'll tell you the reason why because my interview with you is quite candid and honest and I would not make up or fabricate anything," Murray responded, after a long pause.
Retorted Hayes: "As a friend, as somebody that was his 'closest friend,' I would have expected you to say absolutely not?"
Said Murray, "Well sometimes are not satisfied. The one thing I'll tell you is this. I may have informed an impression of an individual based upon certain things I have seen or encountered."
"The reason I'm pressing you is because by saying what you're saying are you deliberately muddying the waters here? Because that's what you're doing," said Hayes.
She added: "Is that fair to Michael Jackson or do you have something that you know?"
MORE ON:
Celebrity Justice
Article continues below advertisement
"I'll never be unfair to Michael and I'm not here to destroy Michael," Murray declared.
"You asked a question and I'm not prepared to answer it not now."
youtube=https://www.youtube.com/watch?v=G1qgb3kyVwY&w=560&h=315
In an earlier exchange, Hayes asked Murray what was to be made of a man who "slept with a dolly and had a urinary bag attached to him."
"I'm going to be fair and I'm open," said Murray.
"Let me just say that Michael is not a perfect man. Michael has a huge dark shadow.
Michael slept with dolls, yes. Is that normal? No, it's not normal. But if you understood the history of Michael as a child and the things he encountered in life and you're willing to listen you probably wouldn't judge him."
Jackson was cleared of molestation charges in a 2005 trial, but in death has had to face renewed claims that he abused a one-time friend, Australian-born dancer Wade Robson when he was just seven years of age.