Exclusive
MJ Had Sex With Me On The SECOND Night I Stayed At Neverland — When I Was Just 7: Wade Robson Tells His Story Of Abuse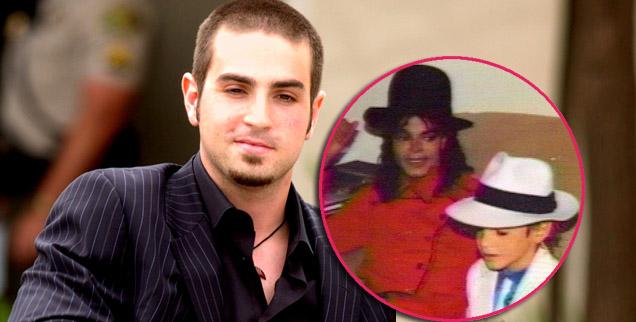 Michael Jackson allegedly made his move on Wade Robson when he was just seven years of age — as his sister slept in another bed just feet away at Neverland Ranch in Santa Barbara, California.
Robson, now 30, has told how the King of Pop made his first sexual advances on the young child prodigy in the star's bedroom in 1990, as the Australia-born dancer's older sister Chantal slept in the same room and often with his mother under the same roof.
Article continues below advertisement
The abuse allegedly continued unabated for another two weeks and from then on, for a period of seven years.
"We can never tell anyone what WE are doing," Jackson told Robson, according to new court documents filed in the father-of-one's creditor's claim against the Estate of the late singer and obtained by RadarOnline.com.
In the declaration, Robson revealed the 13-time Grammy Award-winner suggested to him: "People are ignorant and they would never understand that we love each other and this is how we show it. If anyone were to ever find out, OUR lives and career would be over."
Robson recounted how he first met Jackson at a meet-and-greet with the pop star during the Australian leg of his 'Bad' tour. Two years later, at age seven, he traveled with the Johnny Young Talent School located in Brisbane, Australia, to perform at Disneyland in Anaheim, California.
"Several family members traveled with me to America," Robson said.
"During our stay in Los Angeles, I met Doe 1 Jackson at a recording studio in Van Nuys, California. During our meeting, Doe 1 invited me and my whole family to spend the weekend at his Santa Barbara County ranch, Neverland Valley Ranch. My family stayed the weekend at the ranch, but then left me alone with Doe for another week."
Article continues below advertisement
On the first night at Neverland, Robson and sister Chantal both slept in Jackson's bedroom -- in the same bed as the adult singer -- it's claimed.
But the following night, "Chantal expressed concern about sleeping in Doe 1's bed and elected instead to sleep in a separate bed on a different floor of Doe's two-floor bedroom."
Robson, though, opted to sleep in Jackson's bed again. That's when Robson's lifelong nightmare was said to have begun.
"Doe 1 began sexually abusing me on or about that night," Robson told court. "The sexual abuse continued every night through the nearly two weeks that I spent at the ranch during that early 1990 visit as well as at Doe 1's apartment in the Westwood section of Los Angeles before my family and I returned to Australia."
Specific allegations of abuse were heavily redacted from Robson's filing. In one section alone, seven lines of alleged abuse were blacked out by the Los Angeles probate court in order to protect Robson's privacy.
Article continues below advertisement
However, according to sections of what was released, it's claimed that even while Robson's family was at Neverland, he continued to sleep with Jackson in his bed and "the sexual abuse continued."
When Robson returned to Australia following his two-week visit, his relationship with the Beat It singer continued via faxes and frequent telephone conversations for "hours each week."
He pledged to the hit-maker that he would never tell about what happened between them.
"I swore I would never tell a soul about what we did and did not until May 2012," Robson wrote in the seven page, hand-signed declaration.
That wasn't the end of the abuse, he said. Between the ages of seven and nine, Robson and his mother Joy traveled to the United States from their hometown of Brisbane on two occasions.
"One trip was for one week and the other was for six weeks," Robson said. "During these trips, my mother would stay in a hotel or guest room while I stayed with Doe 1 in his bedroom and in his bed. The sexual abuse continued every night we were together.
Article continues below advertisement
"It was during these years that my 'God' became my 'friend' and told me that he loved me and wanted to be with me."
Shedding light on their apparent and illicit bond, Robson said Jackson -- who died at age 50 from an overdose of surgical anesthetic proposal -- "encouraged" him to call him 'Dad' and he would, in turn, call Robson his 'Son'.
The pair, Robson claimed, would also watch explicit adult pornography in the form of magazines, books and videos — until it all stopped at age 14.
That was when Robson began to show signs of puberty — and "the sexual abuse by Decedent Jackson became less frequent," charged the court documents.
However, what complicates Robson's bid for damages is that he infamously denied in testimony at Jackson's child molestation trial in 2005 that he'd been molested by the singer — charges which Jackson was ultimately acquitted of, partly based on the testimony of Robson, his sister and his mother.
Article continues below advertisement
"He would role play with me and say to me, 'They are saying we did all of this disgusting sexual stuff. We never did any of that, right?' I would play along and answer, 'No way!' He would say, 'If they believed that we did any of this sexual stuff, YOU AND I would go to jail for the rest of our lives. Our lives and careers would be over. We've got to fight this. We've got to beat them together."
Jackson selected, hired and paid for the lawyer who represented Robson in relation to his testimony to the grand jury in the Chandler case, it was also revealed.
Article continues below advertisement
Then, when Jackson was criminally charged in 2005, he again, allegedly, began to coach Robson.
"Doe 1 Jackson called me constantly and coached me by acting out similar role play as he did with me in 1993 when I was 11, telling me such things as, 'They are making up all these lies about you and I. They are trying tying to take US down, take away my power and money, take away our careers. We can't let them do this. We have to fight them together.'"
Robson recalled he would play along with his idol, just as he did when he was 11.
"I still did not believe that I was sexually abused," he said.
"I did not believe that I was forced. I believed that I was a consenting participant in the sexual acts that Doe and I engaged in. I also believed that I was absolutely fine with what went on between us.
"My state of mind was essentially the same as when I was eleven and I denied any abuse."
Article continues below advertisement
According to Robson, it wasn't until May 8, 2012 that he realized he'd been systematically abused -- after multiple nervous breakdowns which included feelings of extreme stress, anxiety, fear, depression and insomnia.
His lawyer told the court, "It was only within the past year, as the result of a complete psychological collapse arising from the fulfilling of a 'prophecy' made by the Decedent Jackson to Claimant Robson that Claimant would one day direct films and a fear that what happened to him as a child could also happen to his own young son, that Claimant, with the assistance of insight-orientated therapy, has relayed that his relationship with his god, his idol and his father figure, Michael Jackson, which began when Claimant was only five years old, was built on sexual abuse and that Claimant was the victim of extensive psychological trauma.
"The decision to pursue a claim against the Estate for the actions of Decedent was not one that Claimant arrived at without a careful and measured evaluation of its implications, as filing this Petition would necessarily mean that he would have to disclose to others the shameful and loathsome nature of his childhood sexual relationship with Decedent, the effects of which he has buried for decades."
Jackson's estate has labeled Robson's claims as "outrageous and pathetic."
"This is a young man who has testified at least twice under oath over the past 20 years and said in numerous interviews that Michael Jackson never did anything inappropriate to him or with him," lawyer Howard Weitzman said previously.
"Now, nearly four years after Michael has passed this sad and less than credible claim has been made. We are confident that the court will see this for what it is."