'I Held Michael Jackson's Penis Every Night To Put Condom Catheter On Him,' Conrad Murray Claims The Singer Was Incontinent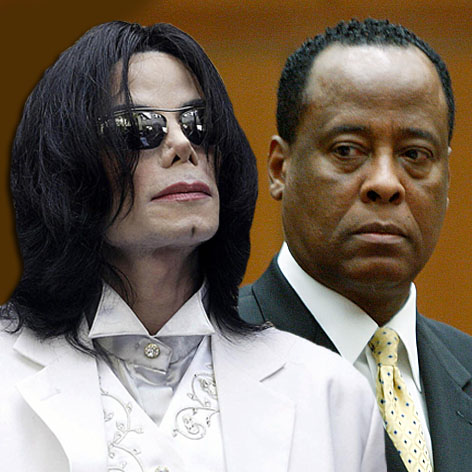 In his first interview since being released from prison for the involuntary manslaughter of Michael Jackson, Conrad Murray has come out swinging.
He is claiming the pop superstar was incontinent and had to wear a catheter, needed a hip replacement, wore a prosthetic nose and that he was not the biological father to any of his three children.
Murray is also still proclaiming his innocence in Jackson's death.
Article continues below advertisement
"I didn't kill Michael Jackson. He was a drug addict," Conrad insisted to the Mail on Sunday. "Michael Jackson accidentally killed Michael Jackson.
"I believe he woke up, got hold of his own stash of Propofol and injected himself. He did it too quickly and went into cardiac arrest," Murray said.
This was the same theory that was presented in court by Murray's defense team and rejected by the jury that convicted him.
The disgraced former physician also took the lid off a litany of medical conditions Jackson had.
"You want to know how close Michael and I were? I held his penis every night. I had to put a condom catheter on him because Michael dripped urine. He had a loss of sensation and was incontinent. Michael didn't know how to put a condom on, so I had to do it for him," Murray claimed.
"It was the most intimate thing but he trusted me."
Article continues below advertisement
"He also had a hip condition where the hip bone comes out of the socket. Michael wanted to know if I could arrange a hip replacement."
Conrad also told The Mail that he helped the singer with the plastic prosthetic tip he taped to the end of his nose, purchased eyeglasses for him at the drug store, and that Michael's feet were so infected with fungus, he was in constant pain.
Murray also confirmed what has long been rumored, that Jackson was not the biological father of his three children, Paris, Prince and Blanket.
"None of them are Michael's biological children. He chose friends or business colleagues to help him," Murray told the Mail.
"Michael was a decrepit man," said Murray, who added that Jackson often spoke about death and dying.
He wanted to "be cremated and scattered someone nice and warm" yet his family ended up burying him in a Los Angeles cemetery.
Murray is appealing his conviction.