Exclusive
How Do You Explain This, Conrad? Michael Jackson's Fingerprints Were Never Found On The Vials Which Death Doc Claims Pop Star Injected!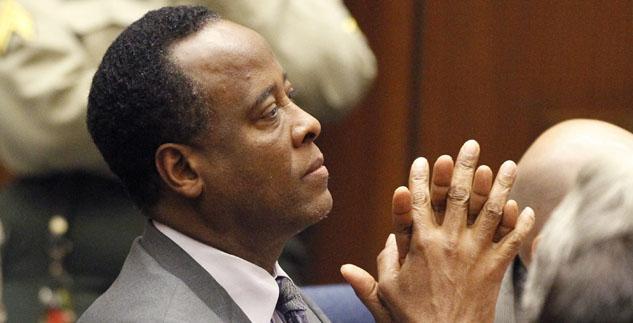 Michael Jackson's death doctor, Conrad Murray, has insisted the singer accidentally ended his own life after injecting himself with a lethal dose of a surgical anesthetic.
But the singer's former personal physician has been caught in what appears to be an EPIC lie: The King of Pop's fingerprints were never found on any of the medical equipment or vials which were found at the Holmby Hills, Calif., death scene.
Article continues below advertisement
In his first interview after being released from prison, the defiant doctor said: "That night he just couldn't sleep. I prescribed him drugs to help, including valium and lorazepam an anti-anxiety treatment, but he was begging, pleading, close to tears. 'I want sleep, please Dr Conrad, I need sleep.' I told him, 'This is not normal. What I've given you would put an elephant to sleep.'
"In the other bedroom Michael's private chamber, the police found an open bottle of lorazepam. They found tablets in his stomach. I didn't give him those. Michael took extra tablets. And he injected himself."
But as RadarOnline.com first revealed in the middle of Murray's involuntary manslaughter trial, Jackson's fingerprints were never found on ANY Propofol or Lorazepam bottles, or intravenous tubing.
"The Los Angeles Police Department didn't find any fingerprints of Michael Jackson's on any Propofol bottles or the Lorazepam bottles. There were no partial fingerprints of Michael's or any unknown prints on the medication bottles," revealed a source close to the initial investigation.
Article continues below advertisement
During Murray's media blitz since being released from jail, the disgraced doctor has said Jackson wasn't the biological father to his three children — Prince, 16; Paris, 16; and Prince Michael II, 10, who's also known as Blanket — and that he held the legendary singer's penis every night whilst he administered Propofol.
In another development, RadarOnline.com has learned Jackson family matriarch Katherine was "implored" by the Deputy District Attorney to seek restitution from the disgraced medico.
But Jackson's mother refused to pursue that option, because her attorneys who would later unsuccessfully try her wrongful death lawsuit against AEG Live believed it would jeopardize their case.
Said one source: "Katherine now has to read all of this utter nonsense that Conrad is spewing to any media outlet that will listen. Murray is so delusional and narcissistic, the claims that he is making about Michael will only get more sensational."