Out Of Rehab: Chris Brown Caught Dining With Girlfriend Karrueche Tran In L.A. -- See The Pics!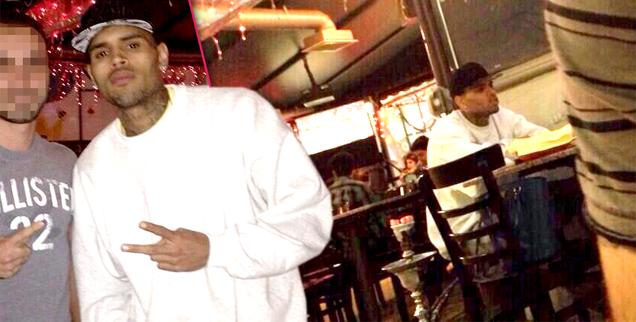 UPDATE 12:41 p.m. PT -- A rep for Brown has confirmed RadarOnline.com's exclusive report, saying: "Chris is continuing his rehab program as an outpatient and is also completing his community service in the Los Angeles area. He appreciates all of your encouragement and support."
---
That was fast! Just over two weeks after Chris Brown entered rehab in Malibu, RadarOnline.com has obtained new pictures have surfaced that allegedly show the singer out to dinner in L.A. with girlfriend Karrueche Tran on Wednesday night.
Article continues below advertisement
Brown appeared serious as he posed with fans and ate at the unnamed restaurant, clad in a simple white sweatshirt, gray jeans, and black baseball cap. It's unclear whether he has been released permanently, or if he was out on a pass. The date the photos were taken, alleged to be Wednesday, is also unconfirmed.
Brown has admitted to extensive drug use, even claiming he has a medical marijuana card in California.
Before entering treatment, he wrote, "In order to go where u have never gone u have to be willing to go where uneven been!!!" Since then, his account appears to be managed by his publicity team, who are simply retweeting and posting promotional materials.
For updates on Brown's treatment and ongoing legal troubles, stay tuned to RadarOnline.com.