Brittany Murphy's Dad Wrote Letter To LA Police Chief Calling For 'Proper' Investigation, Claims 'Misdiagnosed Medical Findings' Masked Poisoning -- Read It Here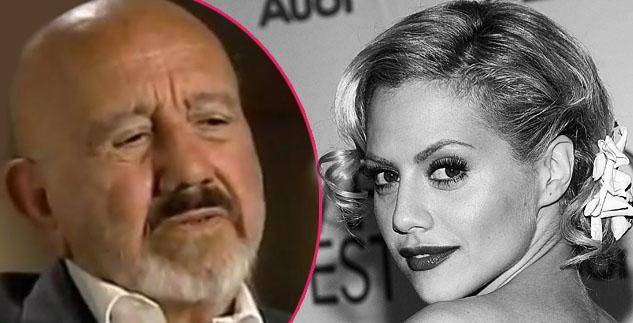 Brittany Murphy's father Angelo Bertolotti penned a letter to Los Angeles Place Chief Charlie Beck as part of his ongoing efforts calling for further investigation in his daughter's 2009 death, and RadarOnline.com has all the details from the letter.
Bertolotti sent the letter (first published on TheWrap.com) Nov. 15, 2013, and addressed it to the Los Angeles City Attorney, the Los Angeles County Coroner's Office, the Los Angeles Police Department, the Los Angeles Police Commissioner, the Los Angeles County District Attorney and Attorney General Kamala Harris.
Article continues below advertisement
In it, he wrote:
Chief Beck:
The Los Angeles County Coroner's Office did not test the remains of my daughter Brittany Murphy, when she died at the age of 32 on December 20, 2009, and her husband Simon Monjack, when he died at the age of 40 on May 23, 2010 for heavy metals and toxic poisons. Brittany and Simon died five (5) months apart, in the same house, from the same misdiagnosed medical findings as "pneumonia and anemia" without complete and thorough tests. These symptoms are known to mask poisoning.
LA County corner Harvey stated on two (2) television programs that had that his estimation, the LA County coroner office this is approximately seventy 70% of homicides every year. Mr. Harvey stated that Brittany did not die of drug overdose, since traces of medications in her body were low, sub-therapeutic levels. Both deaths were ruled to be of "natural causes", in spite of the fact that there is nothing natural about these two young people suddenly dying after exhibiting signs of acute poisoning. Neither one of these two deaths has ever been properly investigated.
Article continues below advertisement
The Los Angeles Police Department (Hollywood Division) closed any portions of an investigation in less than one hour, per Deputy LA County Coroner at winter. Mr. Winter, as a representative of the Los Angeles County Coroner's office expressed that he believed something untoward did in fact happen to cause Mr. Monjack's death, but no one cared to investigate.
I am in receipt of an independent test results of the hair strand for my daughter Brittany Murphy's head, completed by the Carlson Company, a forensic institute that is utilized by the drug enforcement agency (DEA). Their certified findings are concise and to the point. See attachment (Carlson Lab).
Based on these documented revelations that the heavy metals in such abnormally high quantities (as much as 9 times higher than the high levels sent by the World Health Organization and parentheses were likely administered by a third-party with criminal intent.
High-value life insurance policies on both victims certainly provide a strong motive. I would like to meet the week of November 18th, 2013 to discuss how the Los Angeles County District Attorney's office, Los Angeles Police Department will proceed criminal investigation into the deaths of Brittany Murphy and Simon Munjack, exhumations, complete and thorough forensic evaluations, investigations and prosecutions.
Article continues below advertisement
Bertolotti also claims the police department failed to interview "persons of interest" during their initial investigation.
The L.A. County District Attorney's Office would reopen the investigation into Murphy's death if presented with "credible evidence" that suggested her death was a homicide, RadarOnline.com also reported.
Revealed a source: "Of course, if someone, including Ms. Murphy's father, came to us with credible evidence that her death could have been caused by foul play, the office would investigate it — just as they would in any other case not involving a celebrity."