Exclusive
Ashton Kutcher & Mila Kunis: Marriage & A Baby -- Once Divorce From Demi Is Finalized!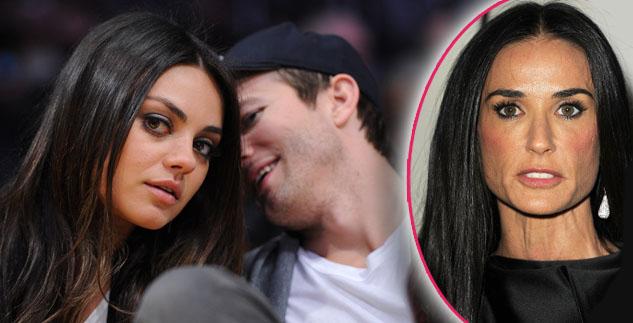 Ashton Kutcher is preparing to put a ring on it once his divorce from ex-wife Demi Moore is finalized, RadarOnline.com has been told.
What's more, besotted Kutcher, 35, and his girlfriend, Mila Kunis, 30, are already talking about having a baby!
"Ashton has been getting a lot of pressure recently from his family who have been asking whether he and Mila intend on having children," a pal told RadarOnline.com.
"Ashton has made no secret of the fact that he wants to have a baby and he's told his family that they're not taking any 'precautions' against having a baby. In other words, he and Mila are ready to be parents.
Article continues below advertisement
"They don't really care if marriage comes before baby, in fact, they don't think they have to be married to have a child."
So serious are relations between Kutcher and his That '70s Show co-star, he began introducing her to all his relatives more than 12 months ago and she's even been dubbed "Aunt Mila" by the actor's nephew Jackson.
The first "Meet The Parents" took place in September 2012 in Kutcher's hometown of Cedar Rapids, Iowa, which the source said was "the first big meeting to show Ashton's family that this is a serious relationship."
Then, last Christmas, Kutcher rented a cabin at North Liberty, a local town in Iowa, where the population is a mere 13 thousand.
"Ashton and Mila spent over a month leading a very quiet life," said the source.
"It was important for the family to see them like this, as there was some initial skepticism from everyone, believing it was a rebound romance. But Ashton was very vocal about things at Christmas and declared to the family, 'I¹m in love with Mila.'
Article continues below advertisement
"She's now firmly part of the family and marriage and a baby are definitely in the works!"
As RadarOnline.com previously reported, the Two and a Half Men star and Moore, 50, are about to file paperwork that will formally end their marriage more than two years after their Nov. 2011 split.
The process was stalled, an insider said, due to "lengthy negotiations between lawyers for both sides about the financial settlement -- in particular, how much he owed her from their failed marriage.
Now, the couple has "finally come to an agreement that was acceptable to all sides."