iTantric? Ex-Lover Says Steve Jobs Craved Kinky Sex In Bizarre Places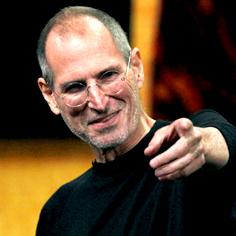 Chrisann Brennan, a former love of late Apple co-founder Steve Jobs, goes into detail about the inventor's out-of-the-ordinary sexual tastes -- including a penchant for tantric sex -- in her new memoir, The Bite in the Apple: A Memoir of My Life With Steve Jobs.
Brennan and Jobs were an item from 1972 until 1977. She said that Jobs retuned from a 1974 trip to India with new sexual enlightenment regarding tantra, saying, "It all broke open between us when he asked if I would make tantric love with him in his garden shed."
Article continues below advertisement
She said that Jobs' professional focus and dedication trickled down to the bedroom, as he avoided emissions to save his mojo, and store "power and wealth by conserving one's vital energies.
"Our birth control method up to that point was Steve's coitus interruptus, also called the pull–out method, which for him was about his conserving his energy for work."
She writes in the tome that she and the late genius "shared nights of lovemaking so profound that, astonishingly, some 15 years later, he called me out of the blue to thank me."
Brennan, who has a daughter named Lisa with the late tech mogul, paints a dark portrait of the inventor, describing his reaction when she told him she was expecting their child.
"Steve's face turned ugly," she wrote. "He gave me a fiery look. Then he rushed out of the house without a word," adding he "told me he felt like I was stealing his genes."
Jobs denied fathering the child for years, until a 1979 paternity test proved him the biological dad.