Apple Co-Founder Steve Wozniak Slams Ashton Kutcher's Portrayal Of Steve Jobs As 'Totally Wrong!'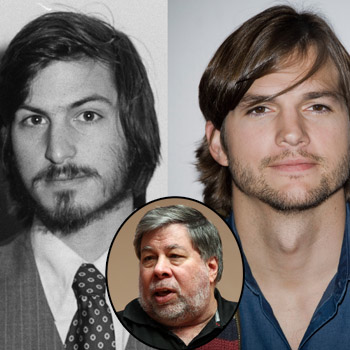 In the biggest role in his career to date, Ashton Kutcher underwent a total makeover to portray Steve Jobs, but neither his dramatic transformation nor the movie has impressed the late iconic Apple boss' former colleague.
Co-founder Steve Wozniak has slammed the upcoming biopic, jOBS, claiming that it got things "totally wrong" after he watched a clip leaked online, reports FoxNews.com.
The leaked scene shows Kutcher as Jobs discussing the social impact of computers with Josh Gad, who plays Wozniak, but the real computer guru was far from impressed.
Article continues below advertisement
"Not close...we never had such interaction and roles..." he wrote in a statement to Gizmodo. "I'm not even sure what it's getting at...personalities are very wrong although mine is closer."
A Plus Computer Support On The Set Of Jobs: Get Inspired
To get the full run down on Wozniak's gripes and to find out exactly what he has to say about Kutcher's acting skills and what he feels about the upcoming movie, go to FoxNews.com Entertainment.