New 'Homeland' Star Was Reportedly Recruited By Scientology To Be Tom Cruise's Wife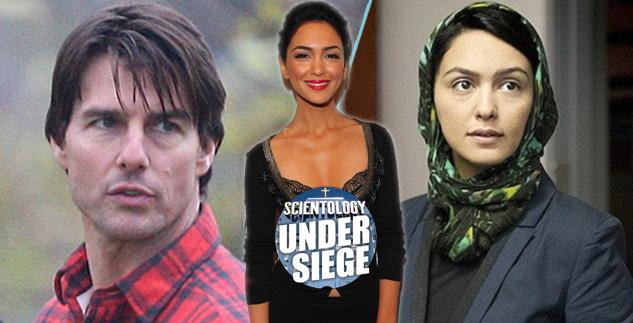 Stunning actress Nazanin Boniadi made TV debut on the hit series Homeland on Sunday night, and if she looks familiar it's because she's the same woman who was purportedly recruited and vetted by the Church of Scientology in 2004 to become Tom Cruise's wife.
The 31-year-old actress plays rookie CIA analyst Fara on the Showtime series but she first made headlines last year when Vanity Fair did an expose reporting that Boniadi was secretly chosen by Scientology to date Cruise before he ultimately married Katie Holmes.
Article continues below advertisement
As RadarOnline.com exclusively reported, Boniadi entered into a brief relationship with the A-list action star before she was dumped after just three months.
"Naz had a breakdown after her breakup with Tom Cruise, partly because of the punishment she endured. She was forced to clean toilets with a toothbrush at the Church of Scientology headquarters in Florida amongst other chores. Naz worked 10-15 hours a day and was told she was being punished for talking about her relationship with Cruise," a source close to the situation told RadarOnline.com.
"She fell very hard and very fast for Tom, but he just grew bored with her and moved on. However, Naz wasn't able to do that and when she was finally released from her punishment at the Church of Scientology she didn't know what to do and she was just absolutely lost. Naz had a total and complete breakdown. Naz's mother, who was also a member of the Church at the time, recognized her daughter was in trouble and needed to get immediate mental health attention. Her mom truly saved her daughter's life."
Article continues below advertisement
According to the Vanity Fair author who revealed the "auditions" for Cruise's wife, Boniadi was told by Scientology honchos that she was to be part of a very hush-hush mission that would in some way change the world.
All claims made by Maureen Orth, the author, were vehemently denied by the Church of Scientology and the Mission: Impossible star at the time, and when RadarOnline.com originally published the claims in September 2012, Boniadi's rep said she wasn't available for comment.
While dating Cruise, Boniadi began the long process of being vetted, which included a complete makeover, daily audits, and the signing of confidentiality agreements, the article claimed.
To find out more about the new Homeland star and her relationship with Cruise, click here.