How TNA Impact Wrestling Star Christy Hemme Stays in Shape Year-Round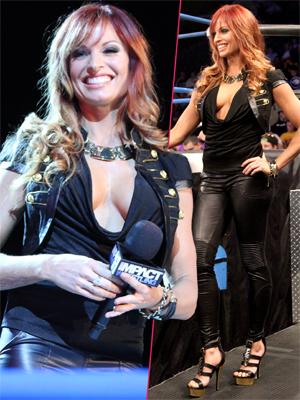 As a kid, she rode street and dirt bikes in the Glamis sand dunes with her siblings on the weekends, but at school she was a cheerleader. Today, Christy Hemme is the ring announcer for all of TNA Impact Wrestling televised series, which puts on over 100 live touring events every year.
This is just one of her roles, as Hemme was once a model and a pro wrestler but retired following a neck injury, she became the de facto leader and creative genius for the TNA Knockouts.
Article continues below advertisement
It's no surprise that Hemme's creative interests reach beyond wrestling. Music is one of her biggest passions. In typical Hemme fashion, she simply decided one day that she'd learn to sing because she loved music and was already writing songs. In fact, some of her original music has been featured on TNA music releases. Like the other TNA wrestlers, Hemme, being the leader of the TNA Knockouts, is never out of shape because she never gets a break. She is the ring announcer for TNA Impact Wrestling broadcast every single week in over 120 countries.
An off-season does not exist in her world. Most athletes have an offseason, but performers like Hemme follow training and diet routine conducive to living a healthy lifestyle 24/7.
On the road she has a standard rotating stash of protein bars, almonds, and ostrich sticks that she munches on backstage. Her latest protein bar obsession is Chef Robert Irvine's Fit Crunch. When she's at home, her breakfast is protein pancakes made with oatmeal, Muscle Milk light cake batter protein, walnuts, bananas, and five egg whites mixed together and cooked in a big pan. Lunch is a simple but tasty salad with kale, spinach, lettuce, cilantro or mint, chicken breast, and homemade dressings with olive oil, organic lemons, and sea salt. Dinner might be her special homemade stuffed chicken, which she makes with tofu, nuts, veggies and cheese. She works out with weights five days a week and even though her split (legs, back, shoulders, chest, arms) stays the same, her workout constantly changes. One tip she has regarding recovery from the workouts is to use the sauna on your off days.
Article continues below advertisement
She advises, "It's good for your skin, lungs, and sweating out toxins. I feel it makes a big difference in my recovery and allows me to lift intensely when I'm in the gym."
Working out on the road, however, presents a challenge, especially for a 5-day-a-week weightlifting routine. I had assumed that TNA brought a portable gym with equipment for the athletes, but that turns out to be false. It's up to the wrestlers to scout for a local gym, use the one at the hotel or improvise by using portable bands or P90X DVDs.
If there are no hardcore gyms in the vicinity, Hemme does a series of bodyweight exercises such as dips and push-ups in her room then either runs stairs at the hotel or attacks the stairs once she arrives at the arena.
When she first started doing stairs the male wrestlers would poke fun at her. But now several of them join her in her ritual.
"Cardio is one thing you can never ever skip", Hemme says, "or else you'll pay for it in the ring. Being in there takes a lot of stamina."