Exclusive
Mob Kingpin Whitey Bulger EXPLODES In New Prison Letter: Denies Murdering Debbie Davis, Blasts Her Family For Cashing In On Death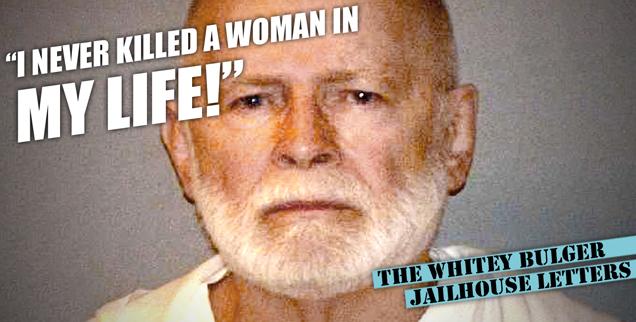 Notorious Boston mob boss James "Whitey" Bulger has spoken out from prison once more in a bitter, angry letter exclusively obtained by RadarOnline.com.
Trapped between the walls of his solitary confinement cell, Bulger now recounts for the first time the chain of events that led to the brutal murder of Debra Davis in 1981.
Insisting, "I never killed a woman in my life!" Bulger blames Davis' boyfriend, his former henchman Stephen "The Rifleman" Flemmi, for the woman's massacre -- and rips apart her family for cashing in after her death.
Article continues below advertisement
"Debbie was young kind of cute, or pretty is a better adjective, with a nice smile," Bulger remembers of meeting the young brunette at a Brookline, Mass., jewelry shop. "Very young, I thought 15 or so, when her and Stevie started going out."
EXCLUSIVE: Read The Jailhouse Letter From Mob Boss Whitey Bulger To A Friend
Soon after hooking up with the notorious Winter Hill Gang hit man, Davis changed from a sweet teen "into a material girl," Bulger claims.
"Soon Debbie is driving a Corvette car, hair streaked with blonde, lots of flashy stylish clothes," he remembers. "She was very thin, pretty and changed."
Before long, Bulger claims, Flemmi discovered some disturbing news about his teen girlfriend. "Found out she would be on speed," Bulger writes. "And friend in mafia let slip she would be at coke parties! Told him 'Don't tell Steve.'"
Davis also quit her job at the jewelry store, "so Stevie would send Debbie and her mother on vacation to keep her busy and happy," Bulger says.
Article continues below advertisement
"Plus constant gifts of expensive clothes, jewels … She and her mother went to Acapulco, Mexico, nice place in the winter, first class Hyatt Regency, etc."
"She and her mother were there for 2 weeks, soon her mother comes home, alone!" the inmate remembers. "No word from Debbie, no phone calls, Stevie is going nuts!! She comes home with long story. Changed, demands he marry her, buy land, put up 2 houses."
Meanwhile, Flemmi grew suspicious that she was not being faithful and bugged her phone, only to discover, Bulger says, that she was secretly hooking up with another mafioso named Gustav.
"The whole Davis family is in on this and Stevie knows it and slowly goes insane," Bulger claims. "He winds up killing Debbie."
In his recent trial, Bulger was charged with the murder of Davis but the jury served up a "no finding" verdict.
Article continues below advertisement
In the new letter, he insists that he's innocent and the Davis family knew it from the beginning.
"In court, FBI agent named Cronin discussed how the mother contacts him and tells Stevie must have killed Debbie, Bugler writes. "Agent Cronin said it and it's on the court record, but media self-censorship doesn't report it."
Indeed, the Davis family very publicly blamed Bulger for the young girl's murder during the 2013 trial. Her brother, Steve, told reporters that while he did not believe Bulger "hands-on" killed his sister, he was involved in a "conspiracy" to have her murdered.
"Davis brother was always outside court with stories, lies, making accusations," Bulger complains.
Apparently still bitter about having to sit quietly while the family got their say after 30 years, Bulger goes on to rip them as a bunch of "low lifes" who were well aware that Debbie was running with a dangerous crowd, but now have made a living off of her death by playing innocent victims.
In September, 2009, a judge ordered Bulger and Flemmi to pay the Davis family $33.5 million in damages after a wrongful death lawsuit. That has proven difficult to collect, but they later got $1,000,000 from the federal government.
"A F***ING RIP OFF OF THE TAX PAYERS MONEY!! UNREAL …" Bulger complains.
"I would bet my life … if the Davis family was offered that Debbie could come back to life if they would return the money," he writes, "it would NEVER HAPPEN!!!!"
RadarOnline.com was the first to expose the legendary mobster's intimate prison thoughts with the publishing of his first jailhouse letter back in August.
For more from Bulger's latest prison letter, including what he plans to do when he faces the Davis family in court again in November, stay tuned to RadarOnline.com!