What's Tat? Justin Bieber's New Ink Decoded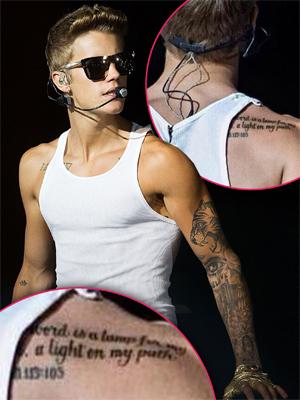 Justin Bieber is running out of space for his tattoo collection! The increasingly inked-up singer debuted yet another new design on his right shoulder in Singapore on Monday night.
"Your word is a lamp for my feet, a light on my path," the quote, from Psalm 119:105 in the Bible reads.
Bieber certainly could be in need of some guidance, after axing his bad-news BFFs Lil Za, as RadarOnline.com reported.
Article continues below advertisement
This is just the latest religious-themed tat for the singer, who also has a portrait of Jesus in a crown of thorns on his left calf, hands in prayer near that, and the word Yeshua, Hebrew for "Jesus," in Hebrew letters on his torso.
Bieber's other designs include a bird on his stomach, the logo of a Canadian ice hockey team on his left shoulder, a crown on his left collarbone, an owl on his left arm, a carp fish below that, his mom's eyeball on his inner elbow, and several more -- up to 20 at last count.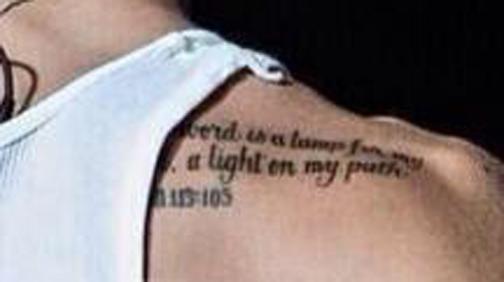 He got his first tattoo at age 16 and it's become a bit of an obsession since. But he doesn't see it as his life's masterpiece.
Bieber told David Letterman in 2012, "I'm not going for the Sixteenth Chapel.sic"