Exclusive
Gosselin Tell-All Author Wipes Blog Clean In Wake Of Kate Gosselin Lawsuit; Jon 'Not Worried,' Says Source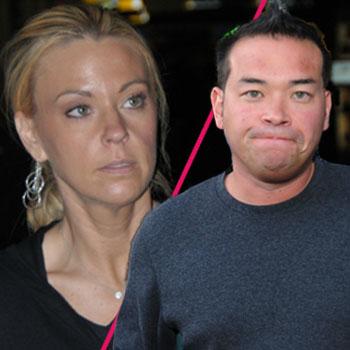 Article continues below advertisement
Prior to the filing of the lawsuit, Hoffman used the site as a sounding board for all things Gosselin, in particular his bombshell claims against Kate and what type of mother she is.
All that remains now is a YouTube video of a clip from The Three Stooges.
As for the lawsuit, an insider close to the situation exclusively tells RadarOnline.com that Jon isn't worried in the least about Kate's legal move.
"Jon isn't worried at all. This is just Kate's latest attempt to stay relevant in the public eye," the source said.
"Jon doesn't feel like he did anything wrong and is confident nothing will come of it."
In the lawsuit Kate alleges, "After the couple was separated, Jon illegally hacked into Kate's email account and her phone and bank accounts.
"Jon also stole a hard drive from Kate's house, which contained private and confidential material. Jon the gave them the contents of Kate's email account and the hard drive, all of which were acquired illegality, to his friend and business partner, tabloid reporter Robert Hoffman," the suit continues.
Article continues below advertisement
"Hoffman used the illegally acquired data to publish a defamatory book about Kate … the book was removed from large distributors like Amazon.com because the information was obtained illegally."
As we previously reported, Hoffman used the information obtained from Kate's computer largely verbatim in his scathing e-book, which contained third-party contracts, emails and what was billed as Kate's private journal.
However, Hoffman later told RadarOnline.com in an interview that he retrieved the computer in question her trash.
We also exposed a series of text messages sent in 2009 from Jon to his then-girlfriend Hailey Glassman in which Jon talks about grabbing Kate's computer to "put the nail in her coffin."
He also discussed how he is a silent partner and has a "pal" named Robert.
But Jon maintains that he and Kate were still married at the time, making a theft of any kind virtually impossible.
"They may have been separated, but they were technically married so he feels like what's hers was his and vice versa," the insider revealed.
Gosselin Author Robert Hoffman Wipes Blog Clean After Kate Gosselin Lawsuit.
"He hasn't really given the lawsuit a second thought. He's moved on and thinks Kate needs to do the same."