Generation Iron Director: Bodybuilders Continue To Look At Arnold Schwarzenegger 'As A God'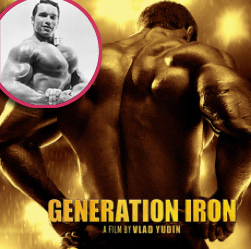 While Arnold Schwarzenegger's career has famously taken him through Hollywood and Sacramento, the high-achieving Austrian remains "an icon to almost all of the bodybuilders" as the sport's most-celebrated ambassador, Generation Iron director Vlad Yudin tells RadarOnline.com exclusively.
"Arnold has done so much in and out of the sport, and he gives so much back to the bodybuilding community," Yudin told us of the A-lister, who makes a special appearance in his new film. "They look at him as a God."
Article continues below advertisement
Generation Iron marks the follow-up to 1977's Pumping Iron, one of the initial launching pads of The Terminator star's eventual, and unprecedented, success.
While Schwarzenegger has clearly gained mainstream accolades, and then some, the same cannot necessarily be said of bodybuilding, the sport that served as his foundation; Yudin said a goal in making the film was to clear up the public's misconceptions of the pumped-up profession.
"A lot of people misunderstand the sport, hate it, look at it as if it's grotesque," Yudin said, adding the athletes are often mistaken as "meatheads," short on intelligence.
"They have much more of an artistic side than anyone can imagine -- they're competitive, very intense."
As we previously reported, Generation Iron is a modern look at competitive bodybuilding, featuring seven Mr. Olympia competitors (Phil Heath, Kai Greene, Branch Warren, Dennis Wolf, Ben Pakulski, Hidetada Yamagishi and Roelly Winklaar) as they prepare for the annual muscle showdown on an international level.