Kim Kardashian 'Obsessed' With Regaining Pre-Baby Body, Doesn't Want To Leave The House Until She's 115 Pounds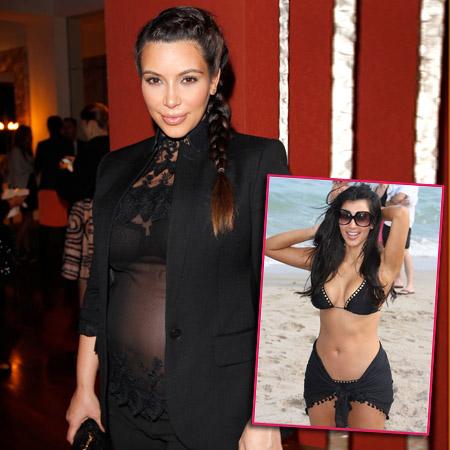 Tomorrow will mark two full months since Kim Kardashian gave birth to her daughter North West, and appearances from the once-ubiquitous reality TV personality have been scarce since she became a mother.
That's because she refuses to make her re-emergence into the spotlight until she's back to her pre-baby form, a source tells US Weekly, noting that the socialite has been indefinitely staying behind closed doors at her mom's Hidden Hills, Calif. home, "extremely self-conscious about her current body."
Article continues below advertisement
Kim didn't even show up for her sister Kylie's sweet 16 at Nobu Malibu Aug. 10, making the dubious claim she couldn't find a babysitter for North as an excuse for why she couldn't attend.
Kim "said when she comes out and gets photographed for the first time she wants to look hot, hot, hot," a family insider told the magazine, adding that her goal weight is 115 pounds, and problematic post-baby areas have been her thighs and rear end.
While Kim has already lost 30 pounds, and the insider says, the last 30 have been much tougher to shake.
"The weight is not coming off as quickly … she plateaued … this is the hard part now."
A source close to her baby daddy, Kanye West, said that the R&B star has been very passive about Kim's next move, letting her work on her own time frame.
"Kanye has been supportive and there for her, but this is more about Kim being inside her head and obsessed."
Article continues below advertisement
"She's always complaining about her size," the insider added. "She says she hates the way she looks and won't go out again until she is skinnier."
So far, all we've seen of the 32-year-old have been two canned releases in which she could not be fully seen: A taped spot on her mother Kris Jenner's talk show Aug. 2; and an Aug. 6 Keek video in which only her voice could be heard.
One source said not to hold your breath waiting for any more Kim sightings this summer.
"She thinks it will take at least another month to get to where she wants to be," the source said. "Only when she's there will she start thinking about showing her body to the world."
And when she does, we'll have it right here for you on RadarOnline.com.