Exclusive
Photo Proof: Charlie Sheen And Porn Star Goddess Capri Anderson Back Together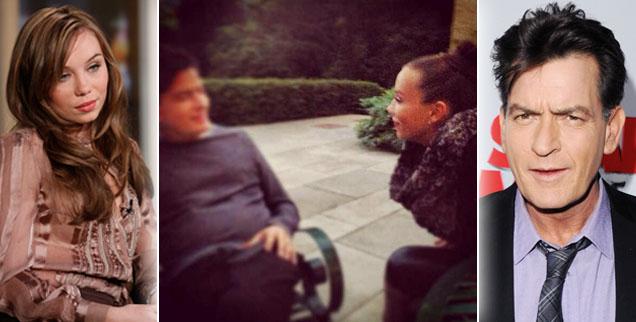 Charlie Sheen is back together with the porn star who just three years ago accused him of assault and battery and RadarOnline.com has photo proof of the actor and Capri Anderson and exclusive details about their new living arrangement.
Capri, 25, posted a photo of her and Charlie on her Instagram account taken when he was in Scotland in early July on a self-proclaimed hunt for the Loch Ness Monster with the caption, "The best of times w the best of friends!"
Article continues below advertisement
But Capri isn't the only woman living with Charlie right now -- enter X-rated model, Georgia Jones.
According to an insider, both Capri and Georgia are living with Charlie right now, circa 2011 when goddesses Bree Olson and Natalie Kenly lived with him.
Bree and Kenly lived with Charlie during the height of his very public meltdown after being fired from Two and a Half Men.
"After a couple years without 'goddesses' Charlie finally decided to get back on the saddle and give it a second chance with Capri and Georgia," the source told Radar.
"No telling how it will end, but like most things in Charlie's life, probably with a bang."
As Radar exclusively reported on Friday, Capri (real name Christina Walsh) moved in with the Anger Management star nearly one month ago.
"Charlie's been partying almost harder than ever. It's one of the only things him and Capri have in common!" the source told Radar.
"Charlie and Capri pretty much just act like none of that craziness from the past ever happened. It's the weirdest thing."
As for Georgia, the insider tells Radar she's enjoying the lifestyle of living with Charlie but knows it won't last forever.