NEW DETAILS: Charlie Sheen Took Hooker On Date -- With Ex-Wife Denise Richards!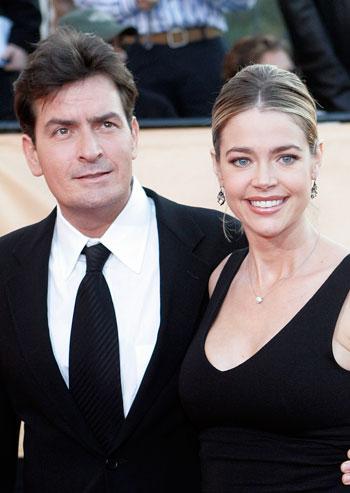 Before a drugged up Charlie Sheen flipped out at a hooker claiming she stole his wallet, the Hollywood wild man took the vice girl on a date – with his ex-wife.
The Two and a Half Men star was spotted at posh New York restaurant Daniel, dining with Denise Richards and a group of other escorts, RadarOnline.com is reporting.
"Charlie and his date excused themselves to the bathroom together, for a long time," an eyewitness told Life & Style.
Article continues below advertisement
"You don't have to be an investigator to know what was going on in that bathroom."
A rep for Daniel refused to comment when contacted by RadarOnline.com.
But according to one onlooker, "Charlie was rowdy from the beginning like he had been drinking prior" and was "being very frisky and touch-feely" in front of Richards, the mother of two of his children.
Sheen was found naked and "intoxicated" in the Plaza hotel, as RadarOnline.com revealed.
Hotel security were forced to call police just after 2am ET where they found the hard-partying star and a trail of damage, including a broken chandelier and tables and chairs thrown all around the suite.
His rep told RadarOnline.com, late Tuesday: "Charlie Sheen has been discharged from a hospital in NY and is returning to LA today. Everything else is speculation."
RELATED STORIES:
EXCLUSIVE: Charlie Sheen Doing Cocaine For Days Before He Was Hospitalized