Denise Richards Tells Howard Stern: Everything's 'Hunky Dory' With Charlie Sheen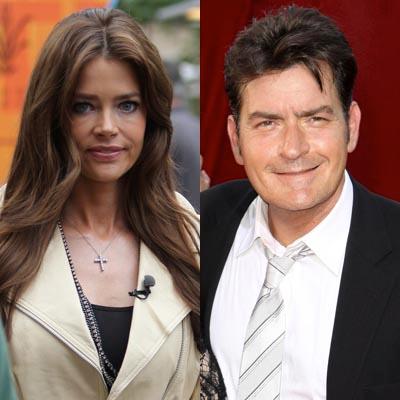 Just hours after her ex Charlie Sheen was hospitalized after trashing a New York hotel room in a drug-fueled frenzy after meeting up with a hooker, Denise Richards appeared on The Howard Stern Show Tuesday and talked to the iconic radio host about her past with the troubled actor, though the incident at the Plaza Hotel was not mentioned.
In fairness to Stern and Richards, the news of Sheen's incident broke via the NY Post two minutes after Stern's show went on the air at 6 am ET, leaving little time for the news to circulate prior to Richards' on-air appearance. Stern asked the Wild Things star if everything was alright with Sheen, to which she said, "Yeah, everything is hunky dory."
Article continues below advertisement
Said Richards of Sheen: "He's off this week and he wanted to come along... it's been a very eventful trip."
Richards said Sheen called their daughters following his arrest last Christmas in Aspen, Colorado.
"He called the girls from prison, it was odd," Richards told Stern. "I don't really know how to talk to the kids about that."
She said her marriage to the TV star had gotten so bad at one point, their marriage counselor "dropped us as a couple.
"It was bad," she said.
She did concede that she and Sheen were "getting along very well right now in real life."
RELATED STORIES: