EXCLUSIVE: Charlie Sheen Doing Cocaine For Days Before He Was Hospitalized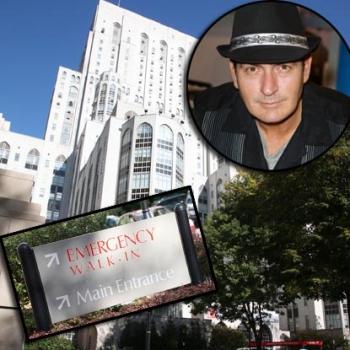 Charlie Sheen was doing cocaine for days before flipping out Monday night and being taken to a New York area hospital, RadarOnline.com is reporting exclusively.
Sheen went berserk and trashed his hotel room at the Plaza before police were called and he was transported via ambulance to a hospital.
As RadarOnline.com first reported the Two and a Half Men actor was with a prostitute and went bonkers after he couldn't find his wallet, accusing her of stealing it.
Article continues below advertisement
But the incident was no surprise because Sheen has been using cocaine for weeks, one source close to the situation told RadarOnline.com exclusively.
"He's back to his old tricks," the source said. "He's been partying and using cocaine. He's been doing it for weeks."
Sheen has been out of rehab for two months. He is currently on probation in Colorado on charges stemming from a domestic violence incident with his estranged wife Brooke Mueller.
If he is not charged with a crime in New York then it is doubtful he can be accused of violating probation, Colorado officials told RadarOnline.com.
Sheen was on a family vacation in New York with ex wife Denise Richards and their children. Richards had a hotel room on the same floor as Sheen and was woken up when her ex created a disturbance. She spoke to police and hotel representatives and went to the hospital to see Charlie.
Article continues below advertisement
The hooker who was with Sheen said he was doing cocaine and now other sources have come forward and told RadarOnline.com that he has been back using for weeks.
Sheen's representative had a different explanation for the incident and told RadarOnline.com: "What we are able to determine is that Charlie had an adverse allergic reaction to some medication and was taken to the hospital, where is expected to be released tomorrow."
Charlie's Plaza hotel room was trashed and according to the New York Post he is undergoing a psychiatric evaluation.
One source told RadarOnline.com exclusively, "when cops got there and Charlie was so out of control they told him he could either go downtown with them, or go to the hospital. He chose the hospital."
Sheen couldn't find his wallet and cell phone and that's what triggered his crazed rage. He accused the prostitute of stealing is things, causing her to run for cover. But she eventually called hotel authorities.