EXCLUSIVE: Domestic Violence Group Call Charlie Sheen's Light Sentence "Sad Reality"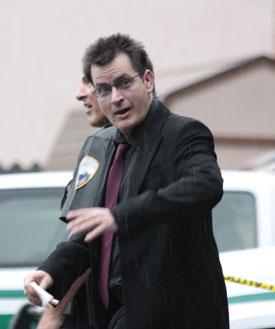 Charlie Sheen's legal slap on the wrist in the domestic violence case against wife Brooke Mueller has caused passionate responses from both the public and legal experts.
But the laughably lenient sentence that sends Sheen to rehab instead of jail is not unusual, according to domestic violence experts.
The Two And A Half Men star pleaded guilty to misdemeanor assault in an Aspen, Colorado courtroom and was ordered to spend 30 days in a Malibu rehabilitation center, RadarOnline.com reported on Monday. The other charges - felony menacing and a criminal mischief misdemeanor - were dismissed.
Article continues below advertisement
"The sad reality is that it's not a light sentence," Brian Namey, a spokesperson for the National Network To End Domestic Violence, told RadarOnline.com. "In most cases, judges will send perpetrators away with a mere slap on the wrist and those perpetrators aren't ordered to serve time in jail, rehabilitation or batterers intervention programs."
Charlie Sheen Pleads Guilty To Misdemeanor Assualt, Ordered To Go To Rehab
"It's rare for there to be stricter sentences... that's sad and it speaks to society's unfortunate tolerance of violence against women," explains Namey.
"We urge communities to be outraged that these crimes aren't taken more seriously."
Going into rehab is not a suitable solution, says Namey (who emphasizes that he is not familiar with the specific program that Sheen is entering), because drugs and alcohol are merely exacerbating factors.
"Domestic violence is not caused by alcohol or drug abuse - or anger, rage or losing one's temper. It is best understood as a pattern of coercive controlling behavior, and that can come in the form of physical violence, sexual violence, physiological violence, financial abuse," concluded Namey.
Both legal powerhouse Gloria Allred and her client, former police office Valerie McFarlane, expressed their disgust at Sheen's light sentence, RadarOnline.com reported on Monday.