LeAnn Rimes Reveals Voluptuous Form At L.A. Anti-Bullying Fundraiser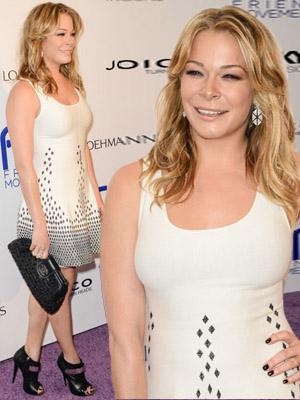 Looking better than ever, LeAnn Rimes strutted her stuff, showing off a fuller form at Los Angeles' El Rey Theatre Monday as she attended the Friend Movement Benefit Concert with her hunky hubby, Eddie Cibrian.
The 30-year-old country star filled out her sleeveless white dress to perfection, pairing the get-up with a frock and peep toe heels.
After the long night, LeAnn tweeted, "I would love to snap my fingers and have all my makeup gone and off as I walked in the door. #girlproblems."
Article continues below advertisement
While she was dogged by rumors of an eating disorder two years ago, LeAnn insists she's never had body issues like that.
"I look back and think, 'I was small,' but I've never had an eating problem, and I can say that 100 percent confidently," the How Do I Live singer told People earlier this summer. "But I was stressed, and some people gain weight, some people lose weight."
Rimes' latest album, Spitfire, is available now.