Exclusive
That Was Fast! Jennifer Aniston And Justin Theroux Separate After Quickie Reunion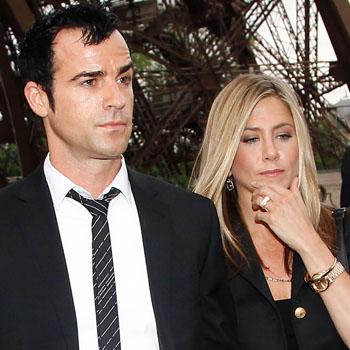 Does absence really make the heart grow fonder? Jennifer Aniston and and Justin Theroux will will soon find out.
Justin is filming in his adopted hometown of New York, and Jen utterly refuses to uproot her So-Cal lifestyle, as RadarOnline.com has reported. All seemed well when the couple were spotted together again on Sunday, shopping in L.A. Justin had been spotted flying back to L.A. on July 2. But by Monday, July 8, he was already back on set in New York -- and Jen refused to join him.
Article continues below advertisement
As Justin filmed on Moday, "Jen was still in L.A...." a source tells RadarOnline.com. "She wasn't planning on going to NYC, as she is overseeing ridiculous final prep for her house in L.A.'s completion."
After that, she'll have to head out to London to film her next movie, Miss You Already. Though she had been rumored to have dropped out of the film in 2012 to spend more time with Justin, she is attached to the project according to imdb.com.
Indeed, at this point it seems like a wedding is further away than ever, and maybe even off altogether. As RadarOnline.com has reported, the couple are sparring over where to live post-nuptials, with Justin pushing for Manhattan, and Jen resolutely determined to stay in L.A..
Justin "thinks it's time Jen start to compromise, but she is absolutely refusing to live on the East Coast, even part-time," a source told Radar.
Despite the tension, a source said, "Justin loves Jen, and he doesn't want this to be a deal breaker for the relationship. He is confident they can work through it."
Just how they plan to do so while living thousands of miles apart remains to be seen.