Exclusive
Coast To Coast Battle! REAL Reason Jennifer Aniston & Justin Theroux Have Put Their Wedding On Hold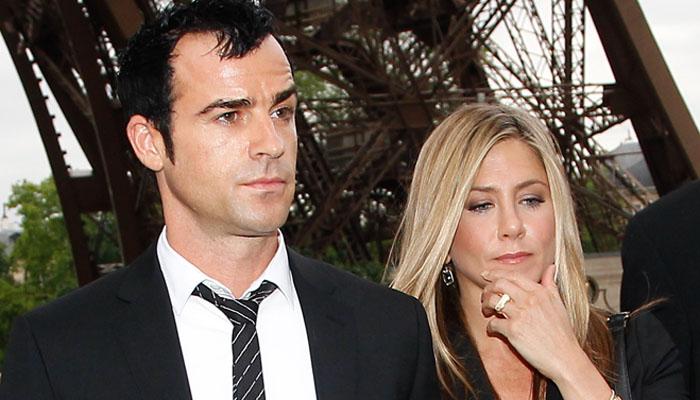 Don't ring those wedding bells quite yet.
Jennifer Aniston has finally found true love with fiance, Justin Theroux but RadarOnline has learned exclusively why the couple has put their wedding on hold.
Justin is miserable living in Southern California and desperately wants to move back to New York City but Jen refuses to go, a source close to the situation tells RadarOnline.com exclusively.
The Friends actress built a guest house at her stunning Bel Air mansion for Justin, a place for him to play music, and hang out with his pals, hoping it will ease his New York City blues. The couple has been engaged for 10 months but several recent reports have dished on the wedding being put on hold.
Article continues below advertisement
The conflict, says the source, is all about where to live.
"Justin has really tried to like living in Los Angeles, but he just doesn't," the source told RadarOnline.com. "It's not his vibe, he loves the energy and grittiness of New York City. He actually jokingly complains about the weather in LA, he doesn't think it's natural for it to be sunny year round, and misses having actually seasons.
"Jen is firmly planted in LA, and doesn't like New York City. She felt exposed and hounded by the paps there. She bought several apartments in NYC, hoping to to make it home for the couple, but in the end, her heart just wasn't in it."
Aniston was hopeful that "building a nearly 2000 square foot guest house at her Bel Air mansion for Justin to use however he wanted would sway him to want to stay in Los Angeles," the source added. "Jen has encouraged Justin to decorate it and use it however he wants. He could play his music, have his buddies over, or turn it into a state of the art man cave! He is appreciative of Jen's efforts, but in the end, it still doesn't change the fact that the couple is living in LA."
MORE ON:
Celebrity Romance
Article continues below advertisement
And that conflict has prevented the couple from walking down the aisle so far -- but is not expected to break them apart, says the source.
As previously reported, Jen has done extensive renovations to her $21 million estate.
According to public records filed with the Los Angeles Department of Building and Safety, the 44-year-old had a chicken house renovated on the grounds of her 8,500-square-foot mansion.
Instead of demolishing the old owner's coop, she had it upgraded! It's located behind the guest house and was recently decked out with a luxurious wooden deck.
Also at the property: a private vineyard, pool, landscaped gardens, high-tech indoor gym, library, gourmet kitchen, butler's kitchen, a dining room that overlooks an outdoor water feature and a master bedroom complete with a master bathroom and closet.
Despite having concerns about where the couple will live, "Justin loves Jen, and doesn't want this to be a deal breaker for the relationship. He is confident they can work through it," the source said.