Exclusive
She's Nesting: Budding Farmer Jennifer Aniston Has Chicken Coop Built At New $21M Bel Air, Calif., Mansion!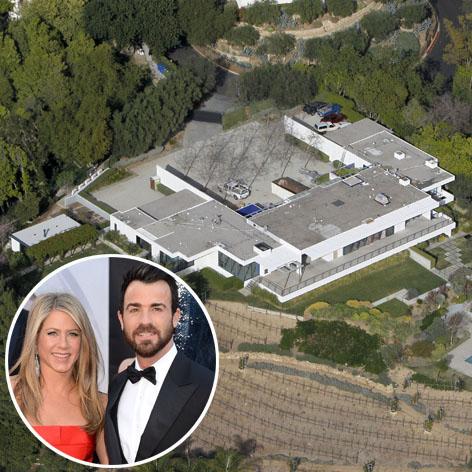 There won't be a nursery -- at least not yet -- when Jennifer Aniston and Justin Theroux move into their new $21 million Bel Air estate now that renovations are complete. But there is at least one fixture to point to the suggestion that the ex-Friends actress is preparing to nest.
According to public records filed with the Los Angeles Department of Building and Safety, as viewed by RadarOnline.com, the 44-year-old had a chicken house renovated on the grounds of her 8,500-square-foot mansion.
Article continues below advertisement
Instead of demolishing the old owner's coop, she had it upgraded! It's located behind the guest house and was recently decked out with a luxurious wooden deck.
America's most noted divorcée hinted at her odd farmyard interest in an interview last year, revealing that she had adopted a feathered family when she purchased the home in 2012.
"They're very social animals, and they like it when you visit them with a cup of coffee in your hand," Aniston said. "According to my groundskeeper, they love pasta."
Los Angeles regulations allow for up to four chickens per home.
Also at the property: a private vineyard, pool, landscaped gardens, high-tech indoor gym, library, gourmet kitchen, butler's kitchen, a dining room that overlooks an outdoor water feature and a master bedroom complete with a master bathroom and closet.
Aniston and her fiance, 41, are expected to move into the gated community -- neighbors include Nicholas Cage and Hugh Hefner -- soon.