Separated For Good? Jennifer Aniston & Justin Theroux Living Apart As Wedding Grows More Unlikely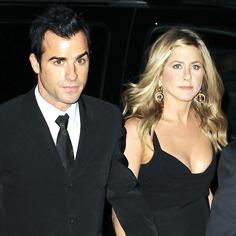 The walk down the aisle is currently 3,000 miles long for Jennifer Aniston and Justin Theroux whose wedding plans have been shelved while they're living on separate coasts, RadarOnline.com has learned.
"Justin is dragging his feet about the wedding," an insider close to the dashing actor tells Life&Style. "He just has so many other focuses right now … planning of the wedding has been put on hold."
The A-lister and screenwriter-actor has been filming the HBO series The Leftovers on the East Coast, while Jen remains stationed in Los Angeles. While she tried to adapt and stay in Gotham with her beau, she said found it like living "in a fishbowl," and headed back to sunny Southern California. That clashes with Justin's fondness for the Big Apple, the insider says, adding that "if it was up to Justin, he'd live in New York City full time."
Article continues below advertisement
A source tells InTouch: "You can tell he's totally comfortable in New York. Ever since he's been back, he's going about his usual routine of riding around on his bike, handing with his friends and staying at his old apartment.
"Things will get strained" if Justin's HBO series gets picked up and he wants to remain in New York, the source said.
"For the first time in over a year, they would not see each other on a regular basis."
Still despite the distance, the pal says that the wedding has only been stalled -- not scratched -- as the show biz professionals try to finesse through the tough times apart.
"She'll be flying back and forth and so will he," the friend said. "They'll do what they can to make it work."
The InTouch source said Jen "knows they will get married eventually -- she loves him and knows that with or without a marriage certificate, they will be together."