Cha-Ching! Farrah Abraham's Dad Cashing In On Her Sex Tape Fame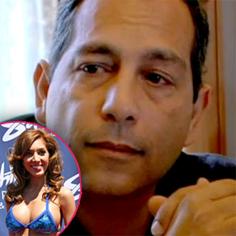 It's safe to say that most parents would not want their daughters to star in a sex tape titled "Back Door Teen Mom." But Farrah Abraham's dad Mike supports her choices, as RadarOnline.com has reported. In fact, he's so proud of her efforts to "improve herself," he says, that he's even planning to share his thoughts on parenting in a book!
Yup, my daughter the porn star.
"As for supporting Farrah ... I don't enable her," he wrote on Facebook earlier this month, revealing, "(you can read a out sic it in an up coming book that will be released)"
Article continues below advertisement
It's unclear whether Mike will be the author, or the Teen Mom star, who has self-published books in the past and has a "tell all" one the way. Either way, it seems that the family sees money to be made off of the way they've raised their daughter.
Yup, it's time for everyone to cash in on teen pregnancy and a porn career.
"...Farrah is trying to improve herself," Mike insisted in the post. "Maybe most of you were anondoned sic but those that had a love sic one believe in you you know the importance it made when you know you have peole hoping and praying for you sic improvement."
After being kicked out of rehab earlier this week, Farrah now appearing at various porn-type event including the EXXXOTICA love and sex expo in Chicago.