Exclusive
Farrah Abraham Released From Florida Rehab Clinic For Being A 'Disruptive Influence' On Other Patients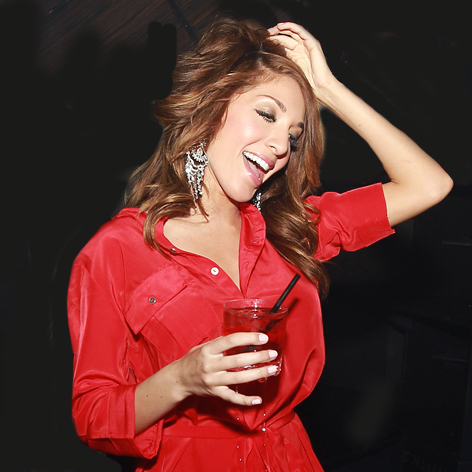 XXX Teen Mom Farrah Abraham was asked to cut short her 10-day stay at a high-end rehabilitation center in Florida because she was a "disruptive influence" on other patients, RadarOnline.com has learned.
The 22-year-old was being treated for alcohol abuse at The Lukens Institute in Palm Beach Gardens, as we first revealed.
But the ex-MTV starlet is understood to have been such a destabilizing force, counsellors forced her to leave on Monday night -- two days before she was expected to finish the course.
Article continues below advertisement
"She will still graduate from the program, but in less time than it typically takes because her behavior became challenging," a source told RadarOnline.com.
Among the issues: The single mother-of-one got involved in an argument with a nurse, tried to take photos of another patient, Tan Mom, during group therapy and upset fellow patients and counsellors, who complained to management that she acted like a bully.
Bosses at the clinic -- she entered a 10-day outpatient program last Monday -- were so fed up that they made the move against her on Monday afternoon after first trying to evict her on the eve of July 4.
"This was a long time coming… Farrah pleaded with them to stay last week and pledged her commitment to the program," the source said.
"Lukens was reluctant but offered her a second chance. The staff didn't throw her out then because they wanted her to get the treatment that she needs."
Article continues below advertisement
Then, on Monday, Farrah caused yet another uproar when she supposedly invited a paparazzi photographer to the venue to take photos of herself, according to the insider. The man was ejected from the facility's grounds.
Other instances of poor behavior included a series of diva-style demands, such as requesting a juicer be delivered to her hotel, the source said.
"Farrah could have stayed on the grounds of Lukens and had access to their facilities, the chefs and the center's a la carte menu, but instead she opted to stay at a hotel," the insider revealed.
"Still, she demanded the same luxuries that the center offers its patients be available to her at the hotel."
This is not the first time the sex tape star has been accused of bad behavior.
The director of a Texas-based drug and alcohol education course, where Farrah was previously enrolled, described her as having "difficulty making eye contact," being "standoffish and sarcastic when answering the questions asked of her."
When Farrah initially entered Lukens, she told RadarOnline.com exclusively that it was a preemptive step to ensure that she continues on the right path.
"At this time in my life, I need to stay focused on the positive to get through all of the negative that a DUI has caused in my life," she said.
"I'm 22 and I want to make better choices and ensure I can recognize when I am putting myself in a bad situation next time."