Exclusive
Amanda Bynes, Ballerina: Watch Her Moves On An NYC Street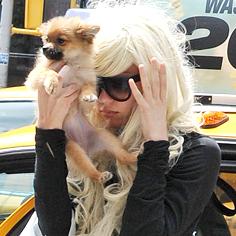 Article continues below advertisement
"She was acting kind of 'off', just keeping to herself and kind of mumbling to herself," an eyewitness tells RadarOnline.com. "Everyone else was stretching and getting ready, but she was fumbling around with her bag."
Apparently, after watching her would-be classmates prepare, she thought better of her ballet aspirations and split. "She left before the class started," the insider confirmed. "I don't think the instructor even saw her."
The next day, Bynes proudly rocked an Alvin Ailey tank top and sweats to her court appearance in Manhattan, along with a turquoise wig.
And her short time in class definitely had her feeling inspired: According to one eyewitness in court, Amanda "busted out a little dance in her seat that could best be described as a body wave."
"She sort of rolled her left wrist, twisted her left arm, bobbed her head, then twisted her right arm and rolled her right wrist," the source told PerezHilton.com. "Her movements were small, like she was just moving to a beat in her mind."
Amanda -- or a lookalike in her court clothes and signature wig -- showed off similar moves in this video of her walking down Eight Avenue:
<