Exclusive
Get This! Amanda Bynes Says She's As Rich As Mary-Kate & Ashley Olsen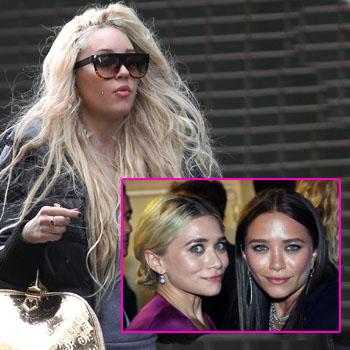 Amanda Bynes is having visions of grandeur: she claims she has just as much cash as the Olsen twins.
"I'm in the Mary-Kate and Ashley type of wealth category," the troubled actress told In Touch magazine.
But a source close to 27-year-old Bynes – who's been exhibiting bizarre behavior all over New York City -- tells RadarOnline.com exclusively that the retired actress is hardly in the same tax bracket as the Olsens.
Article continues below advertisement
"Amanda is worth $5 to $6 million, not anywhere near Mary-Kate and Ashley's money," the insider said of the former Nickelodeon star.
Indeed, that's a far cry from the pint-sized moguls, who are reportedly worth an estimated $300 million. But that hasn't stopped Bynes from acting like she has Olsen-like cash.
"Her spending is out of control," the source told In Touch of her shopping sprees, which reportedly include $11,000 on hair extensions, month-long stays at luxury hotels and huge cab fares.
But according to the insider, Bynes' lavish lifestyle won't last for long. Said the source: "She's going to run out of money sooner or later. The girl no longer has an income."