Exclusive
Thug Life: Prosecutors Say Case Against Aaron Hernandez 'Continues To Grow' – 9 New Developments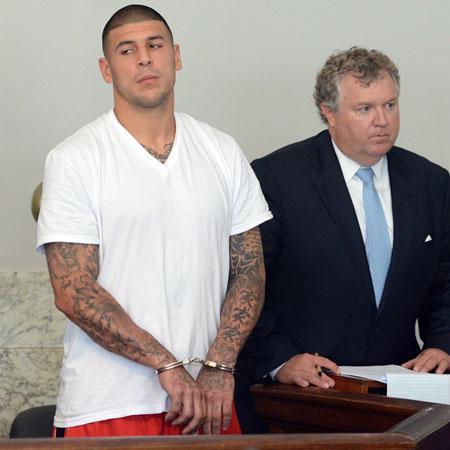 On a day when New England Patriots' owner Bob Kraft admitted he was "duped" by Aaron Hernandez, prosecutors who charged the tight end with first-degree murder said the case against the former NFL star continues to grow, and RadarOnline has all the details.
Here are the nine latest developments in the case of Hernandez and two associates, facing charges connected to the shooting death of Odin Lloyd.
1. Patriots' owner Kraft said the organization never put private investigators on Hernandez and claimed that he was "duped" by the former University of Florida star. Less than a year ago Kraft "rewarded" Hernandez with a $40 million contract extension. Now Kraft says: "If this stuff is true, then I've been duped and our whole organization has been duped. When he was in our building, we never saw anything where he was not polite. He was always respectful to me. We only know what's going on inside the building. We don't put private eyes on people."
Article continues below advertisement
2. Ernest Wallace, an associate of Hernandez's who was with him the night Lloyd was shot to death, was charged Monday with being an accessory after the fact in Lloyd's murder. Wallace, 41, is from Miramar, Florida and turned himself into police after authorities put out an arrest warrant. He pleaded not guilty and is being held without bail. Prosecutors say Hernandez, Wallace and Carlos Ortiz all were in the car with Lloyd the night of his death. Not explained: Why is 23-year-old Hernandez hanging out with 41-year-old Wallace?
3. More search warrants are due to be unsealed Tuesday. A judge ruled Monday – over prosecutors' objections -- that warrants related to the case should be unsealed. This will likely shed more light on the case authorities have against the three men.
4. Prosecutors say their case against Hernandez is still evolving and still refuse to say who was the shooter. "All we've done is charge Aaron Hernandez with murder," Samuel Sutter, the Bristol Country (Mass.) District Attorney said on Monday. "As far as the specifics about who was the shooter and who might have been a joint venturer, it's too early to say. The investigation is ongoing. There's a probable cause hearing scheduled for two weeks, and our case continues to grow." The scheduled hearing is for Hernandez.
Article continues below advertisement
5. Ortiz is scheduled to be in court Tuesday for a hearing that could allow authorities to keep him behind bars for 90 days without bail. He was arraigned last month and charged with carrying a firearm on the day of the shooting. Ortiz and Wallace, along with Hernandez picked up Lloyd and drove him to an industrial park where he was shot and killed, say prosecutors. Evidence includes text messages, various surveillance cameras, and cell phone triangulation.
6. A grand jury continues to sit in the case and legal experts believe that behind the scenes prosecutors will offer a deal or deals to obtain testimony against Hernandez.
7. More evidence that Hernandez hung out with thugs off the field continues to mount. Sources close to him say he spent no time with teammates and while he has denied being affiliated with a gang, it's clear that many people he spent time with had previous problems with the law.
Article continues below advertisement
8. Aaron's former coach at the University of Florida, Urban Meyer, was painted as someone who "strongly believed in the star system, and treated the team's stars differently," a source close to the team told RadarOnline.com exclusively. Meyer, known for his grumpy relationship with the media, denies any responsibility for Hernandez's problems. Jenoris Jenkns, an NFL player who was kicked off the Gators' team by Meyer's successor, says Meyer never would have given him the boot.
9. Hernandez's fiancée and baby mama Shayanna Jenkins is maintaining her public silence. Reports say he asked her to stop talking to authorities but she has not confirmed anything and likely will face heavy pressure to talk. Her sister was dating Lloyd.