Ex Teammate On Aaron Hernandez: He Didn't Have Friends, We Prayed With Him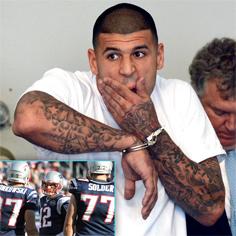 Aaron Hernandez has virtually no friends, little family and no other "outlets" other than football, a former teammate said in an extensive interview about the ex player now charged with first-degree murder.
Jesse Holley played alongside Hernandez last season with the New England Patriots and is the first player to speak openly about Aaron.
Another ex teammate, Matt Light, was quoted Thursday saying: "I never talk about other guys, but I will say I have never embraced -- never believed in -- anything Aaron Hernandez stood for."
Article continues below advertisement
Light would not say anything more, but Holley, now with the Dallas Cowboys, shed some light on the former University of Florida Star.
"Aaron was a cool dude. He was a really cool dude," Holley told Dallas CBS radio station 105.3.
"He didn't have many friends. He lived, ate, slept football. A lot of times that's all he had. He didn't have much family.
"Him and I have had a couple of intimate conversations. We prayed together.
"Another guy on that team, Matt Slater, was a very spiritual guy. We all talked to Aaron. We prayed with Aaron.
"And Aaron spent so much time around football because he had nothing, no other outlets. He had his fans and stuff like that but family was few and far between."
Hernandez is not only charged with the first-degree murder of Oden Lloyd but he is also a suspect in a 2012 double homicide.
Two men who police allege are connected to Hernandez and the Lloyd murder have also been arrested.
Article continues below advertisement
Hernandez is behind bars and bail has twice been denied. He entered a plea of not guilty to the murder charge and five gun-related charges.
As RadarOnline.com reported, Hernandez has been tied to drugs and gangs. At the University of Florida he failed a drug test and it was an open secret on campus that he regularly smoke marijuana.
Holley expressed shock at the circumstances.
"Aaron was a fun loving guy. This is a wild situation but you never know what somebody is capable of doing until they do it," Holley said.
"And to do something like this, and it's still innocent until proven guilty …it's just a 'Wow' situation"
Meanwhile, Hernandez's spectacular fall continued Friday as the Patriots announced that any fan who purchased his number 81 jersey could trade it in for another jersey.
A team spokeman said: "We know that children love wearing their Patriots jerseys, but may not understand why parents don't want them wearing their Hernandez jerseys anymore,. We hope this opportunity to exchange those jerseys at the Patriots ProShop for another player's jersey will be well received by parents."
Earlier, the NFL suspended sales of Hernandez jersey.