Murder Case Twist As Aaron Hernandez Says: I'm Not A Gang Member & Never Have Been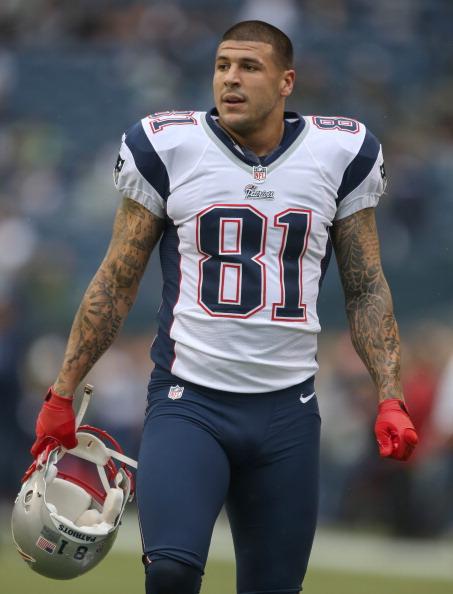 Former pro football star Aaron Hernandez has told authorities he is not a gang member and never has been – and RadarOnline has the details.
Hernandez, 23, is charged with first-degree murder in the shooting death of Odin Lloyd, 27, a semi-pro football player. While behind bars, Hernandez has had all of his tattoos examined by authorities, looking to see if any are connected to gangs.
The former New England Patriots star called two associates who were with him the night they drove and picked up Lloyd, shortly before the murder. Many reports have suggested that Hernandez had gang affiliations dating from his youth in Bristol, Conn.
Article continues below advertisement
"He talked to our gang investigators and said he didn't have any involvement (in gangs," Bristol County Sheriff Thomas Hodgson told the Boston Herald.
Corrections officers have been examining all of the player's tattoos – including one on is hand that says "blood."
Hodgson also told the Herald: "We always take extra precautions. We don't have any definite issues at this point, but we're still being very cautious."
Hernandez is also being looked at for any role in a drive-by shooting last year that left two men dead.
According to the Herald, Hernandez has been a model inmate so far. "He's been very polite, very respectful. He doesn't seem nervous, which is 
unusual for someone who's never been incarcerated before," Hodgson told the paper. "He now has three hours out of his cell each day. That's an hour outside, by himself, an hour to shower and make phone calls, and another hour to see visitors.
Two other men have been charged in connection with the Lloyd killing.
Prosecutors have presented a large amount of circumstantial evidence including cell phone tracking, text messages and surveillance footage.
But they have not accused Hernandez of pulling the trigger or said who did.