It's Back On -- But Is It Too Little, Too Late? Paula Deen Will Appear On 'TODAY'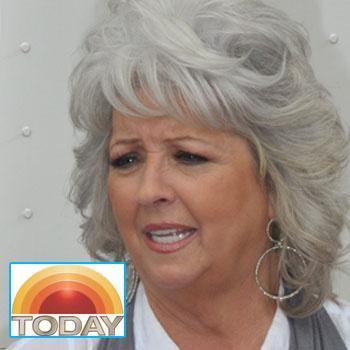 Celeb chef Paula Deen, under fire for her admission of using the N-word and other questionable remarks as part of an ongoing lawsuit, will finally appear on the TODAY show Wednesday, five days after she abruptly canceled her appearance, which was followed later that day by news of her show being canceled by the Food Network.
"She has told us she will be here this time," host Matt Lauer said Monday of the planned appearance, which she backed out of last time with her rep claiming she was too exhausted to go on.
Article continues below advertisement
After the Food Network announced they would not be renewing her show in the wake of the scandal, Deen, 66, released a statement saying, "I have had the pleasure of being allowed into so many homes across the country and meeting people who have shared with me the most touching and personal stories.
"This would not have been possible without the Food Network. Thank you again. Love and best dishes to all of ya'll."
While she's clearly trying to salvage her name and brand, experts in the field say Deen's efforts are probably not enough to restore her empire.
Howard Bragman, vice chairman of Reputation.com, predicted that "Paula Deen will survive but she will never be whole again.
"She will never make as much money, she will never have the respect that she once had, there are people that will never be in business with her again," he said, adding that the scandal will ultimately taint Deen's legacy.
Article continues below advertisement
"When her obituary is written," Bragman said, "this will be a significant part of it."
Mark Pasetsky, the CEO of public relations and marketing content firm Mark Allen & Co., said Deen's "brand is now tainted beyond recourse … it's never going to be the same."
Pasetsky said he's "not optimistic" a TV network will roll the dice on Deen, following the "highly offensive" revelations. He added that Deen's last minute decision to bail on the TODAY interview Friday was "a terrible move."
Bragman mapped out an elementary strategy for Deen's camp moving forward.
"She needs to make this lawsuit go away. Whatever it costs, she needs to make it go away. That's No. 1," he said. "No. 2, she quietly needs to be sitting with her advisers, coming up with a business strategy. I would be taking the Paula Deen empire and making it the Deen family empire.
"A smart way to salvage as much as you could out of the business."