Not Backing Down: Melissa Etheridge Again States Angelina Jolie Did NOT Make A Brave Choice With Preventive Double Mastectomy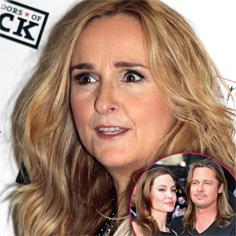 Melissa Etheridge is not backing off controversial comment she made about Angelina Jolie.
Addressing Angelina's much discussed decision to have a preventive double mastectomy after testing revealed she carried a gene that gave her a high chance of getting cancer, Melissa challenged Brad Pitt's description of the choice as "brave."
"I wouldn't call (it) the brave choice," the singer told the Washington Blade. "I actually think it's the most fearful choice you can make when confronting anything with cancer."
Article continues below advertisement
She is the first star to say anything negative about Jolie's choice, and as a breast cancer survivor, her words carried even more weight.
Now, a day after Pitt seemed surprised by the remarks, Melissa has issued another statement, and she's not backing down from her stance.
"I don't have any opinion of what she 'should have done,'" Melissa said. "All are free to choose. I only objected tot he term 'brave' describing it."
No retreat there.
Pitt, reacting to Melissa's initial comments, said: "Melissa's an old friend of mine. I'm sure we'll talk on the phone. I don't know what it is."
He said in a previous interview, "I find Angie's choice, as well as so many others like her, absolutely heroic."
Clearly, Etheridge disagrees and isn't backing down.