'I Was Born With A Webbing In Between My Eyes': Amanda Bynes Explains Her 'Odd Behavior' As 'Embarrassment'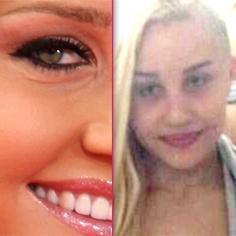 Ah so this explains everything.
Or maybe not. With Amanda Bynes you never know.
Bynes wants everyone to know that she isn't crazy and that she has a perfectly viable explanation for her "odd behavior" in recent months – she was born with a birth defect.
The troubled 27-year-old went on a massive tweeting spree on Wednesday night, revealing to her followers that she was born with "a webbing" between her eyes and that she has been undergoing cosmetic surgeries to correct the birth defect, which explains her bizarre behavior – and RadarOnline.com has the details.
Article continues below advertisement
"I was born with a webbing in between my eyes," Amanda tweeted Wednesday night. "That was a birth defect that I had surgically removed! I've never been more excited!"
The star, whose online antics have everyone from her parents to celebrities like Jaleel White and Nick Cannon severely concerned, continued to divulge details about her medical condition.
"Now I need a few more surgeries to shave the bridge down to correct the rest of my nose so I can start the next chapter of my career! Music!" she wrote.
"I consider myself to be a hero to have suffered 27 years with a birth defect and to just now have it surgically removed! I had to share my story with you so the media would stop using old photos of me and stop writing lies about me having odd behavior when I was just embarrassed to share the fact that I had a birth defect," she continued.
"As soon as I had it removed I couldn't wait to talk about it! I'm having my next surgery on Saturday! My doctors are heroes who also correct kids who have cleft lip - something as traumatic as webbing in between your eyes!
Article continues below advertisement
"I wanted to share my story with you to prove that I'm not crazy, I was just embarrassed. Surgery is a complete miracle for me – nothing can hold you back from living out your dreams. There's a surgery for everything that's wrong with you!"
Ok but if you have a strong sense of deja vu there's a good reason -- Bynes made similar statements in early May, as RadarOnline.com reported.
"I had a nose job to remove skin that was like a webbing in between my eyes. I wasn't going to tell anyone, but I look so much prettier in my new photos," the former actress wrote back then. She added: "I'm so sick of magazines and blogs using old photos! When will they stop? I will never look like that again! Having surgery was the most amazing thing for my confidence!"
Take a look at RadarOnline.com's photos and tell us if you see webbing between her eyes.