Exclusive
Alleged Murderer Aaron Hernandez's Tearful Mom Insists 'He's A Great Kid' With 'A Big Big Heart'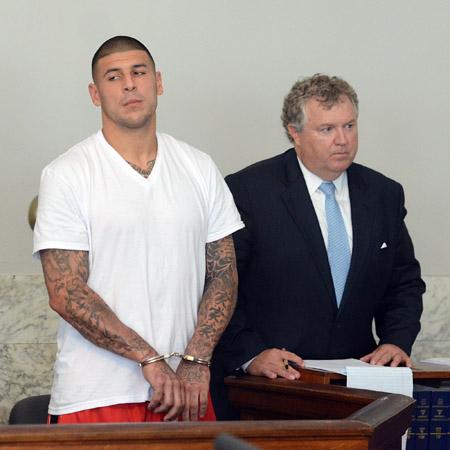 Accused murderer Aaron Hernandez is "a great kid" with "a big, big heart," according to his mother, Terri Hernandez.
In January 2012, just over 18 months before he would be charged with murder, the NFL star was honored with a Super Bowl rally at South Side Elementary in Bristol, CT. Watching the video, obtained by RadarOnline.com, reveals just how far he was able to deceive those around him -- presenting himself as an inspirational role model for kids while maintaining dangerous ties to the dangerous Blood gang.
Article continues below advertisement
"Every parent hopes to raise their kid to be something great," the reporter for a local NBC affiliate said to Aaron's mom, Terri, at the rally. "But to have him turn out now a role model … you have dozens of kids here who want to be your son."
"Aaron has a kind heart. He's very, very kind," Terri explained, somewhat tearfully. "Sometimes too kind. But he's got a big, big heart. He's a great kid."
As the crowd of elementary schoolers chanted the future murder suspect's name in the background, Aaron soon called in to offer advice for staying on the straight and narrow -- ironic, considering in 18 months he would find himself in a jail cell.
"Keep your head high, stay focused and be happy," he told the children.
"One thing I want to say is that I'm glad I was able to talk to you guys. I hope you guys take it and listen. Have a great future. Make sure you listen to all your teachers, do good in school, and hopefully the best happens for all you guys … Have fun and hopefully you guys do good in school and finish the year right."
Terri, watching, was clearly on the verge of tears. After the speech, she said, choked up, "That's how we brought him up. If you do well in life, you'll go far."