Aaron Hernandez Probe: Cops Find Ammunition That Fits Murder Weapon In New Search, Ex-Teammate Trashes Him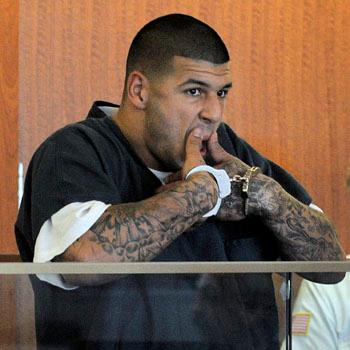 Police searched a condominium rented by pro football player Aaron Hernandez and found boxes of .45 caliber ammunition – the same type that was used to murder Odin Lloyd.
It was yet another bad development for the former New England Patriots' tight end who was denied bail yet again on Thursday, as he faces a first-degree murder charge.
Judge Renee P. Dupuis denied Hernandez bail in Fall River Superior Court, saying the case against him appears very strong.
Article continues below advertisement
Meanwhile, multiple news outlets are reporting Hernandez is being looked at in connection with a double murder via drive-by shooting in 2012. Lloyd may have had knowledge of that slaying, leading to his murder.
According to the Boston Globe :
Investigators believe a fight broke out at Cure, a club in the South End, between two men and a group that included Hernandez.
The two men, Daniel Abreu and Safiro Furtado, friends who grew up in Cape Verde, left the club with three other men in a BMW sedan.
Abreu, who was driving, stopped at a traffic light on Shawmut Avenue, about to make a left onto Herald Street, when a silver or gray SUV with Rhode Island license plates pulled alongside the sedan. Someone from the SUV opened fire, killing Abreu, 29, and Furtado, 28.
The officials said investigators now believe that Odin Lloyd, the man Hernandez is charged with killing in a North Attleboro industrial park June 17, may have had information about Hernandez's role in the double slaying.
MORE ON:
Celebrity Justice
Article continues below advertisement
Meanwhile in the Lloyd investigation, Assistant District Attorney William McCauley told Judge Dupuis in the bail hearing Thursday: "Yesterday's search warrants that found three boxes of .45 caliber ammunition."
Lloyd was shot several times with a .45 caliber gun.
And Matt Light, a well respected former teammate of Hernandez made his feelings clear about the ex Patriot in an interview with the Dayton Daily News.
"I never talk about other guys," Light said. "But I will say I have never embraced, never believed in, anything Aaron Hernandez stood for."