Pro Footbal Star Aaron Hernandez Back In Court For Bail Hearing On Murder Charge– All The Latest Developments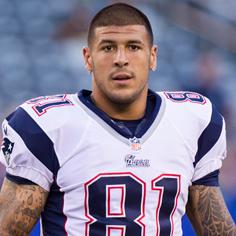 Former New England Patriots tight end Aaron Hernandez will be in a Fall River, Mass. courtroom Thursday for a bail review hearing, according to the Bristol County sheriff.
Hernandez -- who was charged Wednesday with first-degree murder in the execution-style killing of semi-pro football player Odin Lloyd -- was denied bail in his hearing after his arrest.
RadarOnline has all the latest developments in the shocking case.
Article continues below advertisement
Surveillance cameras captures Lloyd at 3:23 am on June 17, in a car being driven to a deserted location in the industrial park where he was murdered. That spot was less than a mile from Hernandez's home.
That video evidence is being called crucial by legal experts.
In addition, Hernandez was caught on his own video surveillance system returning home with two friends. He is seen walking through his home carrying a gun to the basement.
Hernandez apparently says, "You can't trust anyone anymore."
Prosecutors say Hernandez, accompanied by two friends, "orchestrated" the execution of Lloyd.
On June 16, Hernandez sent text messages to two friends who were out of state, telling them to travel to his home asap. The three men then picked up Lloyd.
Lloyd, apparently nervous in the car with the men, texted his sister and told her he was with "NFL" – meaning Hernandez – "just so you know."
Article continues below advertisement
Lloyd, 27, was shot five times by a .45 caliber handgun.
Prosecutors say the final two shots were fired by someone standing over him, as Lloyd was already on the ground.
Gum allegedly bought by Hernandez was found in a rental car tied to him and offers another piece of evidence – a shell casing found next to the gum. That casing is a from the same type of ammunition used in Lloyd's murder.
The murder weapon has not been found.
Authorities also used cell phone towers to pinpoint the location of Herandez and/or Lloyd.
Lloyd, who played semi pro football for the Boston Bandits, was associated with Hernandez through his girlfriend, whose sister is Hernandez's fiancee/baby mama.
Hernandez, an All-American at the University of Florida, and 2011 Pro Bowler, was inked to a $40 million, five-year deal by the Pats last year. He was unceremoniously cut by the New England Patriots two hours after he was arrested Wednesday.
The team issued a statement calling the roster move "the right thing to do," and said that "words cannot express the disappointment we feel knowing that one of our players was arrested as a result of this investigation."
If convicted of murder, the 23-year-old could get life in prison with no chance of parole.