NFL Taking Wait-And-See Approach In Aaron Hernandez Investigation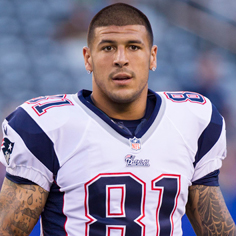 As the investigation into New England Patriots tight end Aaron Hernandez's connection to a recent homicide a half-mile from his home continues, NFL officials are taking a cautious approach as to how to deal with the situation.
Commissioner Roger Goodell -- no-nonsense in his past dealings with players who ran afoul of the law such as Michael Vick, Johnny Jolly and Adam "Pacman" Jones -- is currently waiting to see what developments occur legally before handing down a possible suspension to the standout pass-catcher.
Article continues below advertisement
Goodell has been quoted as saying, "We must protect the integrity of the NFL. The highest standards of conduct must be met by everyone in the NFL because it is a privilege to represent the NFL, not a right.
"These players, and all members of our league, have to make the right choices and decisions in their conduct on a consistent basis."
Hernandez's North Attleborough, Mass. home was searched after the body of 27-year-old Odin Lloyd, a semi-pro football player, was found by a jogger Monday. Lloyd's relatives told the AP that Pats' tight end and Odin were friends, and had been together late Sunday.
Hernandez was also slapped with a lawsuit Wednesday by Florida native Alexander Bradley, 30, who said the athlete, in February, had shot him in the face following an altercation.
Hernandez, a standout at the University of Florida, was inked to a $40 million, five-year deal by the Pats last year. His high-profile teammates this season include Tom Brady , Rob Gronkowski and Tim Tebow.