Pro Football Star Aaron Hernandez Now Being Investigated For Drive-By Killing Of Two Men Last Year: Report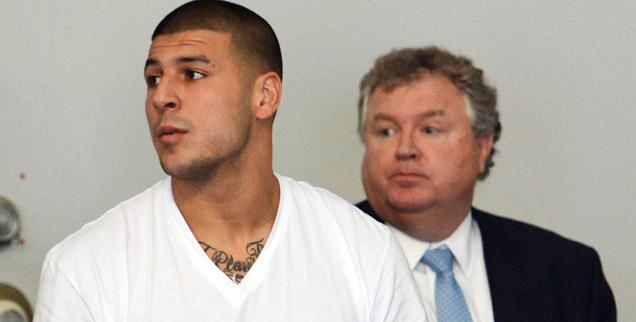 Charged with murder and behind bars with bail denied, Aaron Hernandez now has more problems.
The former pro football star is being investigated in a drive-by shooting that caused the deaths of two men, ABC News is reporting.
Hernandez was charged Wednesday with first-degree murder in the shooting death of Odin Lloyd, a friend and semi-pro football player.
Prosecutors revealed details of a circumstantial case filled with evidence from surveillance cameras, text messages and cell phones.
Article continues below advertisement
Now, Hernandez is being looked at for a Boston drive-by shooting on July 15, 2002, ABC reports.
Daniel Jorge Correia de Abreu, 29, and Safiro Teixeira Furtado, 28, of Dorchester, Mass. Wre shot and killed in a car, and an "SUV-style" car with Rhode Island license plates was spotted leaving the scene, according to the report.
A third man in the car was not killed.
Hernandez was in a nightclub altercation hours before the shooting, ABC is reporting. It is not yet known what – if any – evidence ties him to those shooting deaths.
The tight end was released by the New England Patriots shortly after being arrested Wednesday.