From Eating Tissues & Snorting Cocaine To Daily Colonics: The Most Extreme And Dangerous Model Diets Revealed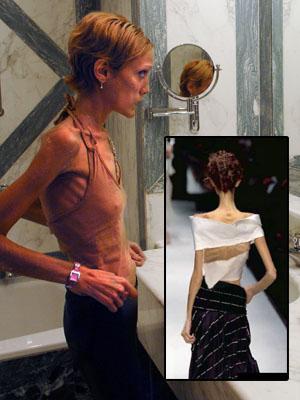 Most models aren't naturally scary skinny, but are willing to go to dangerous lengths to slim down to size zero status.
From eating tissues and cotton balls to snorting cocaine, taking drugs like Adderall and indulging in daily colonics, RadarOnline.com has details about the most outrageously extreme and devastatingly dangerous measures that models have taken to stay super skinny.
Russian poser Kira Dikhtyar admitted to Fox News in 2012 that her supermodel peers have relied on "packs of cigarettes, daily colonics, laxatives, Phentermine diet pills, Adderall, prescription drugs that suppress the appetite" to refrain from eating.
Article continues below advertisement
"I've heard stories that some modeling agents encourage girls to do speed and cocaine in order to speed up metabolism and eat less," she said. "And all kinds of injections are becoming more and more popular, from HCG injections that go with a 500-calorie diet plan to T3 thyroid injections that healthy models inject in an attempt to speed up their thyroid function, which results in a faster metabolism."
Things get ridiculously intense as the time to hit the runway approaches.
"From taking water pills to fat flushes, models do everything they can to flush out any excess fat or water weight before hitting the runway," Jackie Christie, fashion designer, Basketball Wives LA star and former model told Fox News. "Plus I've seen models do ridiculous cleanses and diets – the lettuce soup diet, the lemon juice diet, extreme diet pills etc. I've even heard of models detoxing a full month before a show and working out three times a day. It's insane."
Article continues below advertisement
Former Victoria's Secret model Kylie Bisutti admits that she received heavy pressure to be thin in her modeling days and that she did "crazy crash diets" after her agency told her she was fat. The 23-year-old also witnessed girls collapsing after runway shows and getting hospitalized because of their own eating disorders.
In one of the most horrific and tragic cases of all times, French model Isabelle Caro, who died of anorexia nervosa in 2010, admitted in her book The Little Girl Who Didn't Want to Get Fat, that sometimes she would survive on one piece of chocolate a day with a cup of tea that she would consume one teaspoon at a time. Even though she knew she was dancing with death, dwindling to 55 pounds in 2006, she decided to stop vomiting but still starved herself.
Kirstie Clements recently revealed some of the horrific things she witnessed over the years as a Vogue Australia editor, which included models eating tissues to curb their hunger, getting breast reduction surgery to lose weight, starving themselves to the point of malnourishment – and even sometimes being forced onto an intravenous drip!
Now a plus-sized model, Alice Jackson recently recalled some of the frightening things she put herself through in the depths of her eating disorder, revealing that she starved her 5 feet 9 frame down to 107 pounds by eating only lettuce and exercising two hours a day.
Another model, Sophie Nolan, who stands tall at 5'9" has confessed that her eating disorder took her to a frightening 88 pounds, and that she would spend seven hours a day working out. Her near deadly brush with anorexia landed her in the hospital several times and she suffered three heart attacks due to her starvation methods.