Lettuce Diet, Excessive Exercise & Losing 29 Pounds In 3 Months: Plus-Sized Lingerie Model Details Shocking Anorexic Past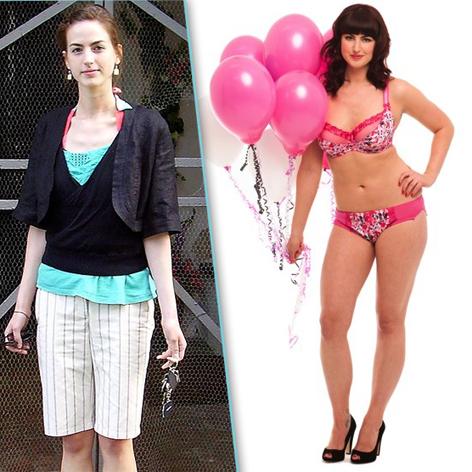 She is currently pursuing a career as a plus-sized lingerie model, but just a few years ago Alice Jackson was starving herself to death.
The 26-year-old finalist in the Curvy Kate "Star in a Bra contest' recently opened up to The Daily Mail about her horrific anorexia struggles during her college years, revealing that she ate only lettuce and exercised two hours a day, which resulted in her losing almost 30 pounds in just three months – and RadarOnline.com has the shocking details.
Article continues below advertisement
"It started when I was in my first year of university when I was 18," she said about the eating disorder that left her totally emaciated and utterly depressed. "I started to put on a lot of weight and wasn't confident so I went home at Christmas and decided to go on a diet."
However, her "diet" quickly spiraled out of control and she went from eating less to eating next to nothing very quickly. At 5 feet 9 inches, her weight dropped from 137 pounds to 107 pounds in only three months due to a diet of lettuce and running two hours a day.
"When I was anorexic I used to lie in bed and could feel all my bones," she explained. "It was just a really horrible time to be so trapped, I thought I would never get better."
When Alice's parents saw her disturbing weight loss, they were shocked by her appearance.
"When I got to June and I was doing Race for Life, my parents were like 'you're too thin, you need to see someone,'" she said.
"I didn't feel well, I felt really ill and had no energy because I was eating so little and starving myself and over-exercising so running on empty."
Article continues below advertisement
She spent the next few months attempting to get healthy, but it wasn't easy.
"That was a really difficult summer. It's a horrible thing to be trapped in your thoughts about food and weight," she revealed. "I felt really really depressed and I didn't care if I died, I just felt awful, all I could think about was food and calories."
By the end of the summer, she managed to get healthy again with the help of counseling from the Somerset and Wessex Eating Disorders Association, and now, years later, weighs in at 154 pounds.
"I feel happy with myself, my body feels like it's at its natural shape," she says about her size.
"It's so nice to be able to eat again and to be able to have things because I was so strict with myself before. There's a lot of things I didn't eat, I didn't eat chocolate at all and never had bread either. But I love chocolate now, it's my favorite thing to have as a treat."
Alice's friends encouraged her to enter Curvy Kate's annual competition, where she is now competing for the "Star in a Bra" title.
"I am confident in my body and being healthy and I think it's really important women don't keep feeling dissatisfied with themselves because people tell them to lose half a pound," she said.
"I'm happy to be curvy and I'm proud to be curvy - and I think that's important."