Exclusive
10 Key Questions The Jury Will Debate To Decide Jodi Arias' Fate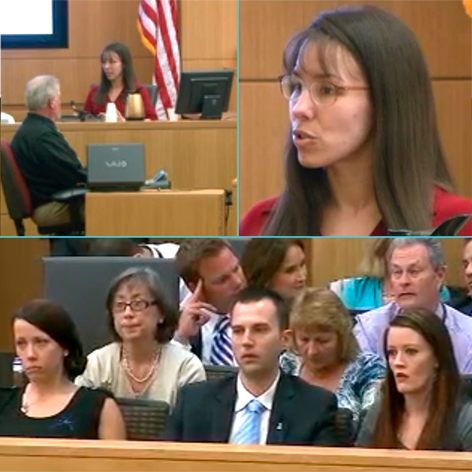 After four long months and a marathon day of final expert testimony to a packed out courtroom, the closing arguments in the Jodi Arias murder trial finally begin on Thursday – paving the way for intense jury deliberation.
The jurors have a mountain of expert witnesses, conflicting arguments and ever-changing stories from Jodi to debate behind closed doors, and with the help of Miami Criminal Defense Attorney Mark Eiglarsh, RadarOnline.com is exclusively predicting the questions they will ask as they decide the killer's fate.
Article continues below advertisement
1. What are the cold hard facts?
2. Do we believe everything the prosecution presented?
3. Do we believe Jodi's version of events? "If you get 12 people who disagree with what she said then you get left with premeditated first degree murder," explained Eiglarsh. "But they may consider elements of her story."
4. If not, which parts of her story do we believe? Is that enough beyond a reasonable doubt for a first degree murder conviction?
Article continues below advertisement
"I don't think the deliberations will be quick, there is far too much to debate and the jurors know that the world is watching and they will be criticized if they come back too quickly," concluded Eiglarsh.
"I think they stay in there longer to give the image that they thoroughly reviewed the evidence and not rushed to judgement."