Jodi Arias Has Borderline Personality Disorder & It Made Her 'Desperate To Avoid Being Abandoned,' Psychologist Testifies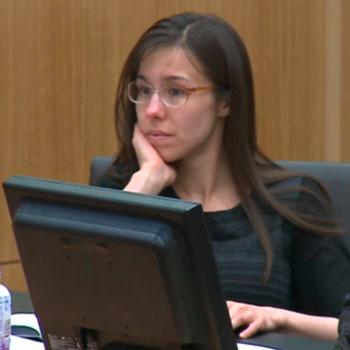 More layers of Jodi Arias' dysfunctional psyche were peeled back in a Phoeniz, Ariz. courtroom on Tuesday, as a psychologist for the prosecution told the court that the murder defendant had borderline personality disorder and suffered from a fear of abandonment because of it.
Expert witness Janeen DeMarte described how during 12 hours of evaluation of Travis Alexander's killer she concluded that the 32-year-old did not have "transient stress-related paranoid ideation" or post traumatic stress disorder, as a defense psychologist had previously claimed.
Article continues below advertisement
Arias faces the death penalty for killing her ex-boyfriend by stabbing him 29 times, slitting his throat and shooting him in the face in his Mesa, Arizona, home in June, 2008.
DeMarte couldn't help laughing as she explained that post traumatic stress disorder can not result from a made-up event, such as the bogus intruder story that Arias allegedly fooled Dr. Samuels with, the Arizona Republic reported.
An inability to recall an important aspect of a trauma is a symptom of PTSD, DeMarte explained, adding that Arias is purporting to suffer from this by saying that she doesn't remember butchering the devout Mormon.
This is not consistent with how people normally have memory lapses, she said.
Instead of hours of memory loss like Jodi testified she suffered, DeMarte said it usually comes in short bursts of blackouts and "the amnesiacs also tend to regain memory as time goes on."
Article continues below advertisement
"The reason I don't believe the case with Ms. Arias is because of the way she is reporting the memory loss is not consistent with what you consistently see," she told the Maricopa County Courtroom, adding that she didn't see any "flight or fight reaction" with Arias' behavior.
She also does not believe Arias endured abuse from Alexander because she was inconsistent with her stories when it came to the alleged abuse, HLNTV.com reported.
When asked if she ever feels compassion for patients, DeMarte replied: "It's possible."
But she is able to remain unbiased, she testified, unlike both Alyce LaViolette and Dr. Samuels who got too close to their subject, according to Martinez.
The trial continues Wednesday. Be sure to stay with RadarOnline.com for regular updates and a live-stream daily.