Exclusive
Jodi Arias Supporters Are 'Being Bullied And Getting Death Threats,' Reveals Friend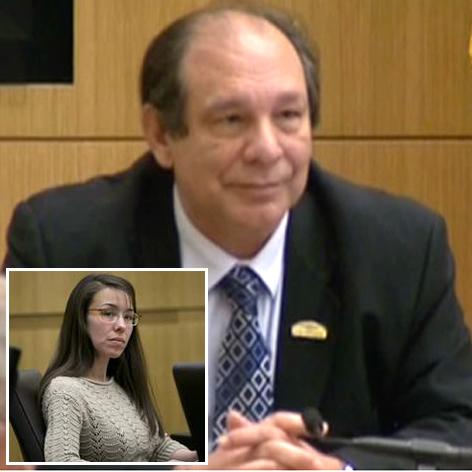 Dating Jodi Arias cost Travis Alexander his life, but during her bombshell trial it's the murder defendant's supporters who are getting death threats, RadarOnline.com can exclusively reveal.
"I've been getting emails with violent threats, or texts and YouTubes from people," friend and former defense witness Gus Searcy told RadarOnline.com in an exclusive interview.
"Telling me that I 'will be going to jail with her,' that my 'days are numbered,' and four letter words – you name it, I've been getting it."
Article continues below advertisement
The self help guru who worked at Pre-Paid Legal with both Jodi and Travis before his June 4, 2008, death testified early on in the four-month trial, during which he voiced his support of the killer and said he overheard Travis aggressively yelling at Jodi.
"Travis called and I heard him yell at her…and then she ducked in fear like she was dodging a bullet. The moment he started cussing her, she totally gave in to him," Searcy revealed.
Even months later, he is still a prime target of venomous haters, and claims other friends of Jodi's were scared of testifying in fear of negative repercussions.
"I have gotten some emails and phone calls from people who knew her very well and knew what was happening and won't come forward," he told RadarOnline.com. "They said they couldn't handle it and praised me for coming forward. They completely get assassinated…look what happened to me.
Article continues below advertisement
"Friends of Jodi's see it and send me notes saying they really appreciate me standing up for her. I am actually meeting with one of them tonight and she said Jodi 'was like a daughter to me, but I just can't. I knew what was happening, I knew Travis was abusive,'" he continued.
"Witnesses are being bullied and I don't think people should have to go through that. A trial should be about justice, not vengeance."
As RadarOnline.com previously reported, both defense attorney Jennifer Willmott and expert witness Alyce LaViolette also got death threats for representing the accused murderer.
Despite the abuse that he has received, Gus doesn't regret taking Jodi's side. "It was the right thing to do," he said. "Sometimes the powerful choice is not the popular choice but it is still the correct thing to do. I didn't say anything that wasn't true or couldn't be proven."
Article continues below advertisement
Now facing life or death as the jury deliberates her fate, Searcy still believes Jodi's self-defense plea and is hoping the verdict reflects that.
"If she stabbed him 29 times why didn't she shoot him five?" he asked. "She only shot him one time. Why wouldn't she shoot him when there wasn't going to be a confrontation, like she when he was asleep? Or slit his throat – no fights, no mess.
"Why get in a fight with someone twice the size of you and twice as strong as you? None of this sounds premeditated," he concluded.
"I think they are going to find her guilty but not give her the death penalty."