Ex Child Star Mara Wilson Explains Why Celebs Like Amanda Bynes, Lindsay Lohan 'Go Crazy'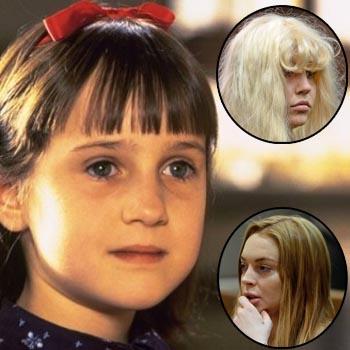 It takes a former child star to know – and understand – a former child star's meltdown!
Mara Wilson, who made a name for herself when she was just a kid starring in movies such as Matilda, Nine Months and Mrs. Doubtfire, gives an insider's view into why child stars like Lindsay Lohan, Amanda Bynes and Miley Cyrus rebel later in life, 'go crazy,' and often end up surrounded by scandal – and RadarOnline.com has the details.
Article continues below advertisement
"Not many child stars make it out of Hollywood alive or sane, and at any given time there are at least three former ones having very public breakdowns," Wilson, 25, explains in an extensive essay on Cracked, offering up 7 Reasons Child Stars Go Crazy, which includes their parents not being willing or being unable to help them, getting used to love and attention and then losing it, sexual exploitation, not being able to rebel, having no alternatives in life other than performing and not being able to escape their child star identity.
"Adults know that infatuation is fleeting, but kids don't understand this," Wilson, 25, who recently quit acting, explains.
"A year in a kid's life seems like an eternity, and they think anything happening now will happen forever. Years of adulation and money and things quickly become normal, and then, just as they get used to it all, they hit puberty -- which is a serious job hazard when your job is being cute."
Article continues below advertisement
Like Bynes, Wilson notes that many child stars break down later in life because they didn't have the freedom to act out when they were kids.
"Look at when most teen and child stars committed crimes and had breakdowns. Most were in their late teens, or even well into their 20s," she says.
"When everyone else their age was getting detention for flipping off teachers or getting grounded for breaking curfew, Disney and Viacom and Fox were doing everything they could to ensure that their adorable little props weren't causing trouble and costing them millions of dollars.
"But when they get older, they have more freedom. They also have money and little to no experience making decisions for themselves, so their rebellions are going to be on a much larger scale. The whole world will see it. And if there's one thing the whole world loves, it's a public breakdown."
Wilson even offers up advice to Lohan, saying she should quit her career in Hollywood.
"If I were to talk to Lindsay Lohan, I'd encourage her to get the hell out of acting and into something soothing. Take up botany or something," she suggests.
"But she wouldn't be likely to listen to me -- and not only because I'm younger and way less hot than her. It's because she's been acting all her life, she has little education, and in her mind, there's nothing else she could do. She's likely to keep doing it even if she's making herself – and maybe also the people she works with -- miserable."
To read all about Wilson's take on why child stars go crazy, click here.