Amanda Bynes Threatens To Sue...Everybody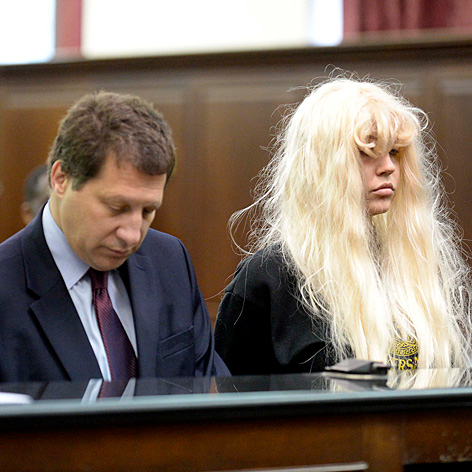 Amanda Bynes is offended and she's not going to take it any more.
After being arrested on suspicion of drug possession and destroying evidence, and then bizarrely going after Rihanna on Twitter, the former actress says she's "offended" and plans to sue the NYPD, the court system and her parents.
She tweeted:
"To say I wasn't offended being treated like a mental insane person/criminal on the night the cops illegally entered my apartment, found nothing, sexually assaulted me, then arrested me taking me to a mental hospital, then locking me up all night for no wrong doing us criminal on THEIR part. My lawyer and I are taking this mistake extremely seriously! You cannot illegally enter my apartment then take me to mental hospital without any grounds. I have never been so offended in my life. They found nothing criminal on me or around me, one cop then sexually assaulted me, so I'm suing for all of the above! I'll be happy when I get money compensation from the cop who assaulted me and NYPD for wrongfully arresting me and having me put into a mental hospital and jail overnight! I don't want to keep talking about it. My lawyer is taking care of it for me."
Article continues below advertisement
The NYPD has investigated and found no basis for Amanda's allegation that she was assaulted, and she didn't even make such a claim when she was in court for her bail hearing on Friday.
But the troubled starlet isn't stopping there. She's even going after her extremely worried parents!
Admitting they are "no longer on speaking terms," she tweeted:
"They were managing me somehow when they have no right to act as if they did anything to help or enhance my career and I want $ back that I earned on my own."
As RadarOnline.com has been reporting, the only thing Amanda's parents have wanted for some time is for their daughter to get help. They have even looked into becoming her conservators, as Britney Spears' father did.
radar_embed service=5min.com src="http://pshared.5min.com/Scripts/PlayerSeed.js?sid=1126&width=570&height=351&playList=517794448&sequential=1&shuffle=0"