Mystery Man Snapped At Gym With Tamerlan & Dzhokhar Tsarnaev Just 3 Days Before Bombing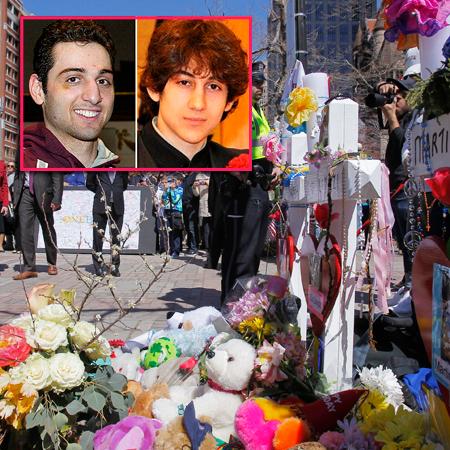 An unknown man accompanied Tamerlan and Dzhokhar Tsarnaev to their gym on surveillance footage dated April 12, three days prior to the bombing they're suspected of perpetrating at the Boston Marathon that left three people dead, more than 260 inured, and 14 people without all or part of a limb.
On the tape from the Wai Kru gym in Brighton, Mass., the brothers seem calm and composed, though an instructor sent the gym's owner, John Allan, an e-mail that the men had been acting disrespectful.
Article continues below advertisement
"It was out of character. But in light of what happened, not that strange," Allan told the Sun. "I think they came to the gym to make sure they were in shape and ready to go. What's curious is who's the third guy and why did they bring him?
"That day, Tamerlan showed up with his brother and his 'other brother.' I don't know who this other guy is. He looked ethnic Chechen to me. He spoke Russian. I'd never seen him before, and the authorities couldn't find him, even though they were dying to. I'm not sure if they ever did."
It was not known early Monday whether authorities had been in touch with the unidentified man in the screen shot.
Allan, 37, said he first met Tamerlan (who died at 26 in a showdown with police days after the bombing) through a fellow boxer five years ago, and dubbed him "a natural" at boxing.
"I told him he could come and train at my gym even though he didn't have the money to afford it," Allan said, "because I wanted him there so badly."
MORE ON:
Dzhokhar Tsarnaev
Article continues below advertisement
Allan said he said a notable change in Tamerlan's demeanor -- "He definitely became disillusioned quickly" -- in 2009 after his domestic violence arrest, as he feared it would cost him U.S. citizenship.
The owner said Tamerlan smelt like marijuana when he would enter the gym with a man named Brendan Mess, a suspected drug dealer, who died two years ago. Allan said Tamerlan's lack of emotion in response to the death shocked him.
"He just kind of laughed and said, 'Can you believe it?' It was like he didn't care about this kid he grew up with," Allan said. "But presumably, at this point, he'd shifted alliances -- he was watching jihad videos and stuff."
Tamerlan "would openly pray in the gym," Allan recalled, which spurred one of his instructors to speculate if the late boxer had ties to terror.
Another regular at the gym -- cage fighter John "Doomsday" Howard -- recalled to the paper how he broke Tamerlan's nose in a sparring session and apologized to him "20 or 30 times" afterwards.
"Now that I think of it," Howard said, "I wish I had kept hitting him."